A great aspect of vacationing in La Romana is that you're able to enjoy the gorgeous beaches and sights of the area while also being close to many other top destinations in the Dominican Republic that make for easy day trips.
Saona Island
A small tropical island located off the southeastern coast of the Dominican Republic, Saona Island is often the destination for boats that depart from the beach of Bayahibe in La Romana. Excursions to the island are also available, which pick visitors up straight from their hotels. Saona Island is a nature reserve, and visitors can explore the vegetation or opt to go for a swim in the clear waters off its shores. Snorkeling is also excellent off the coast.
Santo Domingo
Located 80 miles from La Romana, Santo Domingo is the largest city in the Dominican Republic, making it an excellent choice for a day trip from the region. Santo Domingo is ideal for travelers looking to experience the city bustle on the island. History buffs will enjoy visiting the Catedral Primada de America, one of the oldest cathedrals in the Americas, and Alcazar de Colon, an ancient building built by Christopher Columbus' son. The city's Colonial Zone is also home to many historical Victorian buildings.
Catalina Island
Snorkelers and scuba divers will love heading underwater off the shores of Catalina Island, a six-square-mile island located a short boat ride away from La Romana. Underwater you'll catch the colorful sea life and coral, while the tropical forest in the middle of the island provides thrills on land.
Los Haitises National Park
This protected forest has plenty to see, including mangrove swamps, waterfalls and caves, plus a large bird population. The lush greenery of the park is gorgeously accented by the teal waters of the Caribbean at its borders.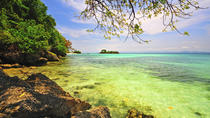 4 Reviews
Worry about nothing on this guided tour of the Samaná Peninsula! Travel by safari truck to Rancho Aventuras for a horseback ride to a thundering waterfall ... Read more
Location: La Romana, Dominican Republic
Duration: 12 hours (approx.)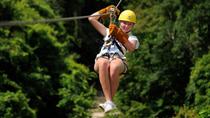 2 Reviews
Feel the wind rush past you as you soar from platform to platform zipping on 12 different double cables, assuring maximum safety. Enjoy the only zipline in ... Read more
Location: La Romana, Dominican Republic
Duration: 5 hours (approx.)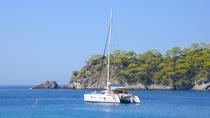 7 Reviews
Set sail to discover amazing white sandy beaches, coconut palm trees, crystal clear turquoise waters and the special Dominican touch that makes for an ... Read more
Location: La Romana, Dominican Republic
Duration: 9 hours (approx.)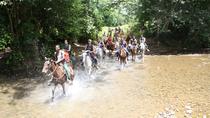 39 Reviews
Dare to explore the largest cave in the Caribbean. Explore the magnificent underground tunnels of Fun Fun Cave in the Dominican Republic. On this day trip from ... Read more
Location: Punta Cana, Dominican Republic
Duration: 12 hours (approx.)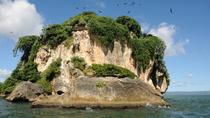 2 Reviews
Wander into mangrove forests and ancient Taíno caves on this day trip to Los Haitises National Park from La Romana. Discover exotic birds and plant life ... Read more
Location: La Romana, Dominican Republic
Duration: 9 hours (approx.)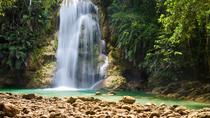 3 Reviews
The Samaná Peninsula is like a world unto its own: verdant rolling hills and a coconut tree-clad landscape give way to shimmering, white-sand beaches. ... Read more
Location: Puerto Plata, Dominican Republic
Duration: 12 hours (approx.)