Lake Tahoe RECOMMENDATIONS See all
Winter in Lake Tahoe
By Viator, May 2014
No reviews, be the first!
Lake Tahoe offers vacationers quite a lot in the way of summer activities, and when the snow falls, it stays just as busy—the action just moves from the water and the beaches to the sides of the mountain. When the chair lifts start up, Lake Tahoe becomes a haven for skiers, snowboarders and anyone else who likes fresh powder and crisp air.
As there are fifteen ski resorts located within 60 miles (96 kilometers) of South Lake Tahoe, the area is popular with skiers and snowboarders all over the world. Most of these have runs to accommodate both types of downhill-daredevils, and many also offer trails and runs for cross-country skiers. In particular, Northstar, Kirkwood and Squaw Valley are destinations for all three. Snowshoeing is a popular pastime at many of these resorts, and you can find rentals in their respective lodges. Sledding and tubing are also offered at many of these resorts, and there are a few hills that are tubing specific, such as Tube and Saucer Hill at Hansen's resort near Heavenly (South Lake Tahoe).
Zooming down hills under the whims of gravity is not necessarily for everyone, but luckily, Lake Tahoe has other winter-related outdoor activities. Ice skating, while not available on the lake itself (it never freezes over), is offered at Squaw Valley (in former Olympic facilities, no less) and the South Lake Tahoe Ice Arena. In addition to ice skating, snowmobiling is popular, and several area companies offer guided snowmobile tours. Finally, the Borges family in Stateline has been offering sleigh rides for over 30 years. These rides can accommodate up to 20 people, and you can book a tour through Viator.
After a day on the slopes or behind a snowmobile's handlebars, relax at one of South Lake Tahoe's many bars or restaurants, or head for the Nevada side of Highway 50 and try your luck at one of the casinos. All in all, a winter vacation in Lake Tahoe is a blast. Whether you're into black diamonds, blackjack or a fun afternoon spent tubing with the kids, you'll find plenty to do in Lake Tahoe.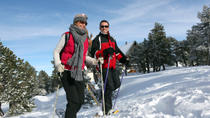 Go traipsing through fresh powder with snowshoe rentals in South Lake Tahoe. Pop into one of the multiple outfitter locations for snowshoes, poles and ... Read more
Location: Lake Tahoe, California
Duration: Depends on rental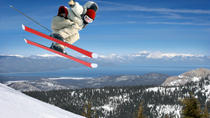 You might not quite be ready to conquer the slopes like a professional, but you can master the mountains of Lake Tahoe by opting for a ski or snowboard rental ... Read more
Location: Lake Tahoe, California
Duration: Depends on rental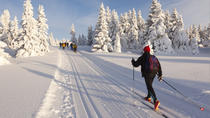 Discover the beauty of Northern California's famed mountains and propel yourself across snow covered terrain and backcountry trails in Lake Tahoe with a ... Read more
Location: Lake Tahoe, California
Duration: Depends on rental