25 Reviews
Address:

Timanfaya National Park, Lanzarote, Canary Islands, Spain

Hours:

Daily from 9am to 6pm (with the last entry at 5pm)

Admission:

Admission €8
Timanfaya National Park Tours
Spanning 20 square miles (51 square km) of southern Lanzarote, Timanfaya National Park is a unique and eerie landscape of dormant volcanos and lava fields. Visitors flock to the park from nearby beach towns to explore the otherworldly terrain that looks more like the moon than the Canary Islands.
The Basics
Visitors pay a small fee to enter the park, and it includes a guided coach tour — but lines can get long during busy season. You can avoid the wait and get round-trip transport from elsewhere in Lanzarote by booking a half-day or full-day tour in advance. Many of these tours take you through the park on a coach bus and make stops where you can get out to walk or hike the volcanic landscape, while others also include options to ride a 4x4 or take a camel ride through the lava fields. To see what kinds of flavors the volcanic earth can produce, pick a tour that celebrates the area as a wine region and includes wine tastings too.
While much of your tour may be by coach, dress comfortably for the outdoors, as the terrain is somewhat rugged.

The El Diablo Restaurant is located at the top of the Islote de Hilario, the tallest of the Fire Mountains (Montañas de Fuego). It's a great place to grab a bite to eat with a panoramic view of the park.

Public restrooms are available at Timanfaya.

How to Get to Timanfaya National Park
Timanfaya is accessible by car but visitors can't explore the park independently, so be prepared to join a tour even if you drive there yourself. Otherwise, a variety of guided tours are available with transport from popular resort areas on Lanzarote, such as Costa Teguise and Playa Blanca, or even from the neighboring island of Fuerteventura via ferry from Corralejo.

When to Get There
The park is open all year round, and the weather is almost always pleasant — ranging from 63°F (17°C) to 77°F (25°C). The summer months are the busiest, followed closely by winter when travelers from mainland Europe escape cold temperatures to vacation on the islands. If visiting during these peak seasons, head to the park early or late in the day to avoid the biggest crowds. The view at sunset is particularly special.
Geothermal Experiments You Can See in Action
Although the volcanoes lie dormant, the area remains a strong source of geothermal energy thanks to a boiling chamber of magma 2.5 miles (4 km) below the surface. This means there are certain areas in the park where you can toss a bundle of branches into a pit and see it burst into flames, or pour water on the ground and watch it turn into steam.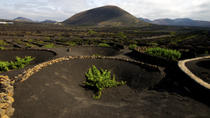 9 Reviews
Experience more than just Lanzarote's beautiful beaches on this full-day trip from Fuerteventura. Explore the awe-inspiring Fire Mountains with an optional ... Read more
Location: Fuerteventura, Spain
Duration: Flexible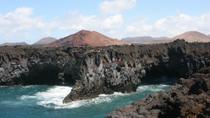 101 Reviews
Get up close and personal to the magical landscapes of southern Lanzarote on an action-packed half-day or full-day tour. Both options include a tour of the ... Read more
Location: Lanzarote, Spain
Duration: 6 to 9 hrs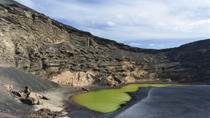 67 Reviews
See beyond the beaches of Lanzarote on a full-day island tour, and discover geological marvels, volcanic landscapes and wine! With a local guide, explore ... Read more
Location: Lanzarote, Spain
Duration: 9 hours (approx.)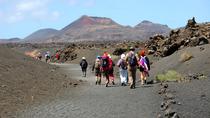 39 Reviews
This walk is an easy alternative for those who want to learn about volcanology and admire the moonscape of the Natural Park of Volcanoes from close without ... Read more
Location: Lanzarote, Spain
Duration: 5 hours (approx.)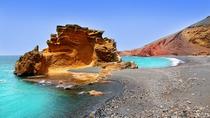 3 Reviews
Escape the city for the day on this 7-hour day trip to Timanfaya. See the natural sights of the park before traveling around the area to must see sights as La ... Read more
Location: Puerto del Carmen, Spain
Duration: 7 hours (approx.)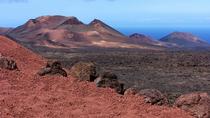 Travel to Lanzarote and be amazed by the island of contrasts, the intense blue of the sea and the blackness of the earth. Visit Lanzarote's volcanoes and try ... Read more
Location: Playa Blanca, Spain
Duration: 7 hours (approx.)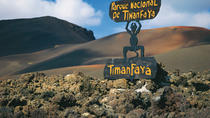 1 Review
You already know Lanzarote and just want to revisit Timanfaya? Or maybe you just want to visit the National Park? This is the solution.
Location: Puerto del Carmen, Spain
Duration: 3 hours (approx.)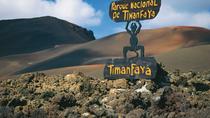 Timanfaya and La Geria, spectacular landscapes. Ride a camel on volcano slopes, and feel the strength and magnetism of Lanzarote.
Location: Puerto del Carmen, Spain
Duration: 5 hours (approx.)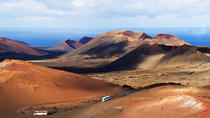 4 Reviews
Volcano national park, Lanzarote wine region, aloe vera museum visit, and the unique green lagoon, could be the best full day sightseeing excursion.
Location: Corralejo, Spain
Duration: 1 day (approx.)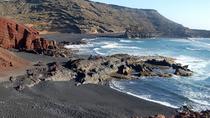 3 Reviews
Timanfaya, Jameos Del Agua, Haría, Green Lake, North and South of Lanzarote, surprising contrasts in our bus route. Get a complete view of our Island!.
Location: Puerto del Carmen, Spain
Duration: 8 hours (approx.)