62 Reviews
Address:

Off Hwy 63 & Hwy 12, Utah 84776, USA

Hours:

Daily yearround

Admission:

$12–$18
Bryce Canyon National Park
Utah is famous for its red-rock canyons and rugged vistas that stretch to the horizon, both of which can be found in Bryce Canyon National Park. Featuring a variety of otherworldy geological formations, Bryce Canyon is crammed full of pinnacles, steeples and spires, not to mention all of the hoodoos, which are sculpted by wind, water and ice.
The area's unique look was caused by millions of years of erosion, with wind and rain having peeled back the sedimentary layers to reveal stripes of red, orange and white, at heights of around 9,000 feet (2,700 meters). Upon arrival, travelers pass through the park's plateau region to reach the edge of the rift valley—your first view of the cliffs spiked with red-rock pinnacles is one you won't forget.
Explore the park's Grand Staircase and its series of step-like, uplifted rock layers, and be sure to stop at Rainbow Point, another major natural formation, which can be reached via an 18-mile (29-km) scenic drive. Travelers can also choose one of Bryce Canyon's eight hiking trails for a day trek (ranging from an hour's walk to overnight trips). Horseback riding is another favorite activity, along with cross-country skiing in winter. Plus, the area's remoteness makes for supreme stargazing.
Practical Info
Bryce Canyon National Park is 50 miles (80 km) from Zion National Park and 210 miles (336 km) northeast of Las Vegas. To reach the park, follow Highway 63 from Highway 12. After 4 miles (6.5 km) you'll reach Rim Road Drive, which leads to Inspiration Point and Rainbow Point, passing the visitors center along the way. A free shuttle bus runs into the park from Highway 12.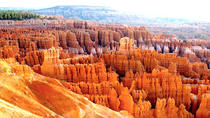 85 Reviews
Escape from Las Vegas and spend your day exploring one of the world's most spectacular landscapes, Bryce Canyon Country. Travel round-trip from Las Vegas to ... Read more
Location: Las Vegas, Nevada
Duration: 15 hours (approx.)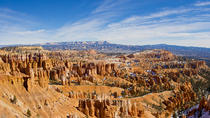 Your Bryce Canyon adventure begins as you board your flight from Ogden to Bryce Canyon airport. Upon arrival you will travel into the park by van with your ... Read more
Location: Ogden, Utah
Duration: 6 hours 9 minutes (approx.)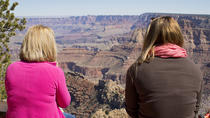 Your Grand Canyon South Rim adventure begins as you board Utah Airways flight to Grand Canyon National Airport. The flight entails beautiful views of Bryce ... Read more
Location: Salt Lake City, Utah
Duration: 7 hours 12 minutes (approx.)
39 Reviews
Spend a day away from Sin City to marvel at the wonders of Mother Nature on this day trip to Bryce Canyon National Park in Utah. With your guide, enjoy several ... Read more
Location: Las Vegas, Nevada
Duration: 12 hours 30 minutes (approx.)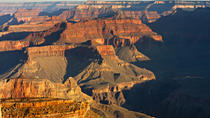 Experience Grand Canyon National Park by air and land with an aerial and ground tour of the South Rim. This 2.5-hour round-trip scenic flight from Salt Lake ... Read more
Location: Ogden, Utah
Duration: 6 hours 30 minutes (approx.)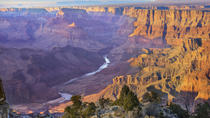 Experience exhilarating views of the Grand Canyon and explore its West Rim on this air and land tour from Salt Lake City. Start with a scenic, 5-passenger ... Read more
Location: Salt Lake City, Utah
Duration: 6 hours 30 minutes (approx.)