154 Reviews
Address:

Death Valley 92328, USA

Hours:

Open daily 8:30am - 5:30pm

Admission:

$20 per car (7 days) or $10 per person
Death Valley
Filled with craters, abstract land formations, canyons, mountains and desert, Death Valley isn't considered 'A Land of the Extremes' for nothing. With activities like hiking, biking, camping, or bird watching, you can reconnect with nature like you never have before.

The Furnace Creek Area is one of the highlights of Death Valley National Park. The Furnace Creek Area features the Golden Canyon, the Natural Bridge, a massive rock formation spanning across a desert canyon, and the infamous Bad Water, a series of salt flats making up the lowest point in North America at 282 feet (86 m) below sea level. Ironically, Bad Water is only 76 miles (122 km) east of Mt Whitney, the highest point in the continental United States at 14,505 feet (4,421 m).

Other highlights include the Stovepipe Wells Area, filled with sand dunes and canyons, Scotty's Castle Area, featuring an elaborate Spanish-style mansion of a local prospector, and the Panamint Spring Area, made up of Darwin Falls and the famous Joshua trees.
Practical Info
Death Valley is located 2 hours outside of Las Vegas, on the border of California and Nevada. Death Valley stretches approximately 140 miles (225 km) north to south. It is known for its extreme weather (it's one of the hottest places on Planet Earth, after all!). People visit Death Valley year-round, though the busiest time of year is between October and April, when desert temperatures are at their mildest (in other words when it's plain old hot - instead of scorching hot).

Keep in mind, Death Valley holds the record for the highest reported temperature in the Western Hemisphere: on July 10, 1913 the temperature hit 134 F (56.7 C) in aptly named Furnace Creek.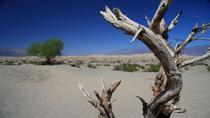 349 Reviews
Escape to the desert on a day trip to Death Valley during your Las Vegas vacation. You'll travel through the magnificent Mojave Desert, tour Ubehebe Crater, ... Read more
Location: Las Vegas, Nevada
Duration: 11 hours (approx.)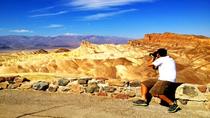 68 Reviews
Visit the incredible landscapes of Death Valley on this day trip from Las Vegas. Known as the hottest and driest place in the Western Hemisphere, this unique ... Read more
Location: Las Vegas, Nevada
Duration: 10 hours (approx.)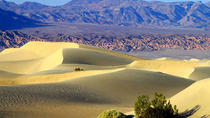 10 Reviews
The Death Valley Day Tour from Las Vegas is a full day of sights, scenes and extremes you can only comprehend once you are there. The world has many strange ... Read more
Location: Las Vegas, Nevada
Duration: 10 hours (approx.)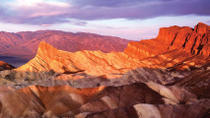 38 Reviews
Experience the beauty of the largest national park in the contiguous United States, Death Valley! On this tour you'll see many other desert highlights ... Read more
Location: Las Vegas, Nevada
Duration: 10 hours (approx.)