Let the sparkling glitz of the casinos and shows entice you to lose yourself in the wild neon nightlife, and unleash your inner cowboy/girl on the Grand Canyon. Whatever you chose, here's an overview of suggested itineraries to get you started.
Day 1: See a Vegas Show
Tour Vegas with the stars, take a neon-lit evening trip, then hit the town for an over-the-top spectacular
Vegas show
.
Vegas shimmers with magic and music, from the aquatic dream world of
La Reve
, to the
Blue Man Group
, legendary musical icons
Donny and Marie Osmond
, and the ultimate celebration of
Motown
. Enjoy the latest
Cirque du Soleil
breathtaking production or opt for an adults-only night of fun with the men of Australia's
Thunder from Down Under
or the lovely ladies of the
Crazy Girls Fantasy Revue
.
Day 2: A Day in Nature
Don't miss out on the beautiful desert scenery, from magnificent
Lake Mead
and
Hoover Dam
to the wondrous
Grand Canyon
, or go
rafting down the Colorado River
in the adventure of a lifetime.
At the canyon, take an unforgettable stroll out onto
Skywalk
, a transparent glass bridge over the edge of the
West Rim
, or admire the ever-changing colors of the canyon walls at sunset on an
exhilarating helicopter flight and champagne picnic
.
Travel through an ancient Joshua Tree forest to the
West Rim
, home of the Hualapai Indian Nation, enjoy the amazing photo gallery and IMAX cinema at the National Geographic Visitor Center on the
South Rim
, or visit a real working ranch on the remote
North Rim
.
Day 3: Vegas after Dark
Glitz and glamour in sinful proportions, Las Vegas is known for its neon and nightlife.
VIP nightclub passes
,
bachelorette parties
and
strip classes
! What more could you need?
Skip the lines with VIP passes
to favorite celebrity hot-spots, go club-hopping in a fully-stocked
party bus
, or soar over the twinkling lights of the Vegas strip on a
helicopter night-flight
!
286 Reviews
Penn and Teller's live show has been a hit on Broadway and now has a permanent home in Las Vegas at the Rio Suite Hotel and Casino. Known for their outrageous ... Read more
Location: Las Vegas, Nevada
Duration: 90 minutes (approx.)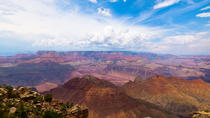 25 Reviews
See some of the most striking scenery the Grand Canyon has to offer on this morning or afternoon fixed-wing airplane flight. Soar over the eastern part of the ... Read more
Location: Grand Canyon National Park, Arizona
Duration: 40 minutes (approx.)
42 Reviews
When the sun goes down in Las Vegas, the nightlife scene heats up! Don't miss out with this all-access pass, providing you with free entry and access to the ... Read more
Location: Las Vegas, Nevada
Duration: Flexible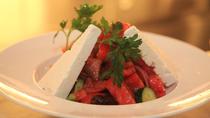 32 Reviews
The Las Vegas dining scene is one of the best in the country, but it can be hard to navigate, with some restaurants requiring hard-to-get reservations and ... Read more
Location: Las Vegas, Nevada
Duration: 2 hours 30 minutes (approx.)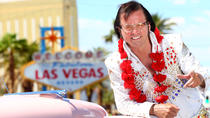 104 Reviews
Head out on the town with Elvis for a tour of Las Vegas you'll never forget! Ride along with the king of rock 'n' roll in his 1956 pink Cadillac as he sings ... Read more
Location: Las Vegas, Nevada
Duration: 2 hours (approx.)
26 Reviews
Fly like a fighter pilot over Las Vegas for the ultimate adrenaline rush! Experience Top Gun or Air Combat thrills aboard the high-performance aircraft of your ... Read more
Location: Las Vegas, Nevada
Duration: 3 hours (approx.)
132 Reviews
Get ready for the adventure of a lifetime! Raft down the mighty Colorado River along the Grand Canyon's sheer cliffs. Also included in this exciting day trip ... Read more
Location: Las Vegas, Nevada
Duration: 15 hours (approx.)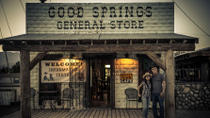 39 Reviews
Embark on a spooky ghost hunt in Goodsprings, Nevada, a mining town about 25 miles (40 km) from Las Vegas that has been featured on the Travel Channel's TV ... Read more
Location: Las Vegas, Nevada
Duration: 4 hours (approx.)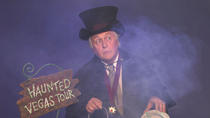 59 Reviews
This spirited and spooky haunted vegas tour will take you to the haunting grounds of Elvis, Michael Jackson and Liberace. This experience makes it possible to ... Read more
Location: Las Vegas, Nevada
Duration: 3 hours (approx.)
24 Reviews
Fly to the Grand Canyon's West Rim by helicopter, enjoy a champagne picnic, then cruise the Colorado River. This is a half-day tour, leaving you with time in ... Read more
Location: Las Vegas, Nevada
Duration: 3 hours 30 minutes (approx.)