The Grand Canyon in Arizona is full of spectacular scenic views. Picture dramatically layered pieces of colorful rock, striking red rock gorges, sandstone spires, redwall cliffs, jagged slopes and a landscape that makes you feel like it could swallow you whole. While you'll find most of those iconic Grand Canyon postcard shots on the South Rim, there are certainly inspiring views in the other area's of the park, as well. To help you take in the best views of the Grand Canyon, here are some suggestions. 
Your best view of the Grand Canyon will undoubtedly be when taking an air tour. Because of the Grand Canyon's immense size -- 1,904 square miles (4,931 square kilometers) -- it's impossible to take it all in from the ground. For a more encompassing view, opt for an a
helicopter tour
over the Grand Canyon. There are many to choose from, depending on where your starting location is (typically the Grand Canyon National Park or Las Vegas). To see as many views as possible, opt for a tour that has multiple experiences in one, like a helicopter flight, Colorado River boat ride and ground excursion. By doing this, you'll be able to see the Grand Canyon from a number of vantage points, each one different from the last. 
If you're looking for just a helicopter tour,
a 45-minute flight over the Grand Canyon from Tusayan, Arizona
 is a smart option, as it allows you to fly over both the North and South Rims, as well as the inspiring natural landmarks like Painted Desert, Desert View Watchtower, Marble Canyon, Point Imperial and the Dragon Corridor, the widest and deepest section of the Grand Canyon.
You don't have to fly to get aerial views over the canyon, as the
Grand Canyon Skywalk
allows you to step over the canyon edge via a translucent platform. The experience is not for the faint of heart, as it's the world's highest man-made structure by more than 2,300 feet (700 meters). And while it may make your stomach do some flips, it also provides stunning 720-degree views of the Colorado River, the canyon's West Rim and the famous Eagle Point, a rock formation resembling an eagle in flight.
Hiking and camping in the Grand Canyon
 is another way to immerse yourself in the surrounding scenery. What's great about hiking is it really makes you feel like you're part of the landscape, as you get to know it by traversing its trails, smelling its scents and hearing its sounds. There are an array of lookout points in the Grand Canyon National Park that will give you those iconic postcard-reminiscent views. If you're adventurous head to Grandview Point, one of the highest viewpoints standing at 7,400 feet (2250 meters) -- although you'll have to trek to the top. Yavapai Point on the South Rim is another smart choice, as it offers views of the North Kaibab Trails, Bright Angel Trail, Colorado River and Phantom Ranch, and also has an area with telescopes and interesting information on the canyon. If you're on the North Rim your best bet for great views is the Point Imperial, the highest viewpoint on that side at 8,803 feet (2,683 meters). You'll be awarded views of the the eastern Grand Canyon, Painted Desert and Marble Canyon. 
282 Reviews
Your multi-perspective adventure from Las Vegas begins with a deluxe flight to the Grand Canyon South Rim on an executive-style airplane. At the Grand Canyon ... Read more
Location: Las Vegas, Nevada
Duration: 7 hours (approx.)
4708 Reviews
Hit the highway out of Las Vegas and spend the day touring the Grand Canyon and Hoover Dam. On this day trip you'll have four hours at the Grand Canyon, with ... Read more
Location: Las Vegas, Nevada
Duration: 12 hours (approx.)
145 Reviews
Experience the Grand Canyon like a VIP on this luxury helicopter tour during sunset. From Boulder City, enjoy a magical helicopter flight over Lake Mead and ... Read more
Location: Las Vegas, Nevada
Duration: 5 hours (approx.)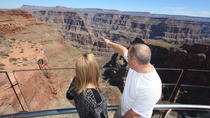 188 Reviews
Take a deluxe helicopter tour from Las Vegas to the Grand Canyon West Rim. At the Grand Canyon, you'll have time to explore its beauty on your own and then ... Read more
Location: Las Vegas, Nevada
Duration: 7 hours (approx.)
134 Reviews
Take in breathtaking views with a Grand Canyon helicopter tour from Boulder City, Nevada. You'll soar over the Grand Canyon during a 35-minute helicopter ... Read more
Location: Las Vegas, Nevada
Duration: 4 hours (approx.)
866 Reviews
Take the ultimate Grand Canyon tour! You'll fly from Las Vegas to the Grand Canyon by helicopter, cruise the Colorado River, then spend time at the West Rim. ... Read more
Location: Las Vegas, Nevada
Duration: 6 hours 30 minutes (approx.)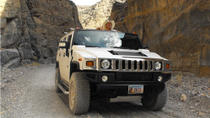 124 Reviews
Get out of the hustle and bustle of Las Vegas and explore some of the vast land that surrounds the Grand Canyon. On the Grand Canyon West Rim tour, you'll see ... Read more
Location: Las Vegas, Nevada
Duration: 9 hours (approx.)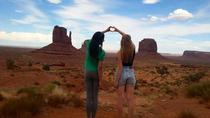 66 Reviews
Visit three national parks of the American Southwest on this 3-day seasonal camping adventure from Las Vegas, with the option of comfortable lodging. See Zion ... Read more
Location: Las Vegas, Nevada
Duration: 3 days, 2 nights
548 Reviews
Travel by coach, helicopter and boat on an action-packed day trip to the Grand Canyon West Rim. It's one of the Las Vegas tours you can't miss! You'll ride a ... Read more
Location: Las Vegas, Nevada
Duration: 12 hours (approx.)
59 Reviews
This approximate 1-hour aerial sightseeing tour is the most cost-effective way to see the Grand Canyon and appreciate its majesty and beauty. Fly over ... Read more
Location: Las Vegas, Nevada
Duration: 4 hours (approx.)