We all know Las Vegas as a party destination – we've all heard the stories and we know people that have come and had their bachelor/bachelorette parties here, and many of us have seen or are familiar with The Bachelor. But what makes Vegas special isn't just the gambling and the partying – it's the chance to live in excess, to take things to the next level and get away with doing it – it is, in short, a chance to live a life o f extreme adventure. And if adventure is what you're looking for, Las Vegas will answer.
Starting the list off at Extreme Adventure in Las Vegas is a sunset helicopter trip to the West Rim of the Grand Canyon. Seeing the Grand Canyon by helicopter is, if you'll mind the pun, an unparalleled experience, and seeing it during sunset is downright majestic. Jump aboard, strap in, and bring the camera.
Next up: fighter pilot school. If you ever harbored dreams of being the Red Baron or ever dreamed of being a fighter pilot, now's your chance. Learn the skies in a single prop and perform barrel-rolls, loop-de-loops and other aerobatic maneuvers all while dangling precariously over the Mojave Desert. Adrenaline pumping and one-of-a-kind, if you like to fly, fighter pilot school is for you
If you prefer your adventures more land based, consider a romp through the Mojave in a dune buggy. These little four wheels of fury are reminiscent of Mad Max and you too can speed through the martian terrain at high speed and get your fair share of dessert experience. The
Las Vegas dune buggy experience
is a land-lovers experience and you'll likely see some big horn sheep and ancient petroglyphs while blazing through the Valley of Fire state park.
Last up – take a trip
white water rafting through the Grand Canyon
. Can you even imagine anything more spectacular? Leave from your hotel and spend the day in utter beauty having the time of your life channeling over rocks and rapids with the icy Colorado beneath you. The best thing about this extreme adventure? You can bring the whole family.
Additional adventure includes skydiving Las Vegas, and even braving the blackjack tables at Caesar's Palace. Hey, let's be honest – it's a war out there.
Contributed by Hudson Hornick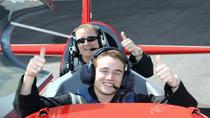 54 Reviews
For the ultimate Las Vegas adrenaline rush, fly like a fighter pilot and learn basic fighter maneuvering skills. You'll twist and turn through the air above ... Read more
Location: Las Vegas, Nevada
Duration: Varies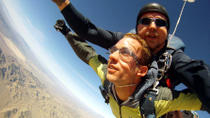 157 Reviews
Are you up for it? Complete your visit to Las Vegas with a tandem skydive! You'll experience the adrenaline rush of a 60-second free fall, followed by a ... Read more
Location: Las Vegas, Nevada
Duration: 5 hours (approx.)
263 Reviews
Leaving your morning free to explore Las Vegas, ride into the sunset on an afternoon horseback riding adventure. Discover lands once used by Indians and ... Read more
Location: Las Vegas, Nevada
Duration: 5 hours (approx.)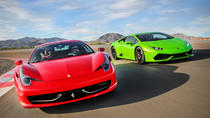 45 Reviews
Is your dream to get behind the wheel of a Ferrari, Lamborghini, Aston Martin or Porsche? Now it's time to stop dreaming and start driving! Select your ... Read more
Location: Las Vegas, Nevada
Duration: 2 hours (approx.)
19 Reviews
Fly like a fighter pilot over Las Vegas for the ultimate adrenaline rush! Experience Top Gun or Air Combat thrills aboard the high-performance aircraft of your ... Read more
Location: Las Vegas, Nevada
Duration: 3 hours (approx.)
124 Reviews
This extreme RZR tour through Hidden Valley and Primm Valley from Las Vegas will take you on a challenging and exhilarating ride through rugged desert and ... Read more
Location: Las Vegas, Nevada
Duration: 6 hours (approx.)
162 Reviews
Ever imagined soaring from the top of a mountain with an eagle's eye view? Let your imagination become reality and experience the thrill and beauty of Bootleg ... Read more
Location: Las Vegas, Nevada
Duration: 4 hours (approx.)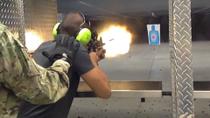 9 Reviews
The largest selection of fully automatic machine guns is waiting for you in this ultimate shooting experience. All shooting packages are one-on-one with former ... Read more
Location: Las Vegas, Nevada
Duration: 60 minutes (approx.)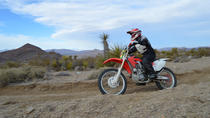 23 Reviews
Get off the pavement and take this extreme dirt bike tour, to Hidden Valley and Primm, you'll take a challenging but exhilarating ride through rugged ... Read more
Location: Las Vegas, Nevada
Duration: 6 hours (approx.)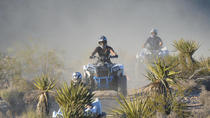 9 Reviews
Looking for a new challenge? If you're an experienced off-roader, take this extreme ATV/quad bike tour through Hidden Valley and Primm Valley from Las Vegas to ... Read more
Location: Las Vegas, Nevada
Duration: 6 hours (approx.)