Just outside of Las Vegas is the man-made marvel of
Hoover Dam
, one of the great civil projects of the Depression, and one that continues to provide power for the neon lights of the Strip. Perched on the Nevada/Arizona border, it sits 725 feet (220 meters) high with a roadway straddling its rim, a dramatic spot which has long been a favorite movie backdrop, from Hitchcock's
Saboteur
to the first of the modern
Superman
movies.
If you're in Vegas, you could always head out by car to see this scenic feat of engineering, but the best way to appreciate its scale is to
see it from the air
.
There are numerous options
. One of the most memorable will have you
setting off at dusk
, just as the lights of the Strip are asserting themselves against the darkening desert sky and the last of the day's rays light up the dam and Lake Mead.
A longer trip will take you to the area's great natural wonder, the Grand Canyon, in a
breathtaking 45 minute flight
passing over the dam and landing in the canyon itself where you'll enjoy a champagne picnic before heading back for a night of Vegas thrills.
If you want to get more out of your desert adventure, head out in the afternoon for a helicopter flight which gives you great views of Hoover Dam before arriving at the Grand Canyon. "At"? I meant "in". Yes, you'll descend 1,500 feet (450 meters) down to the canyon floor. After a taste of
cowboy life in a real ranch house
, your road trip back to Vegas will include another look at the floodlit dam.
Get even closer with a day trip which combines a helicopter ride over the Grand Canyon with a
rafting trip from the base of Hoover Dam
along the Colorado River, through the dramatic sheer walls of Black Canyon. It's a "dam" fine day out!
4710 Reviews
Hit the highway out of Las Vegas and spend the day touring the Grand Canyon and Hoover Dam. On this day trip you'll have four hours at the Grand Canyon, with ... Read more
Location: Las Vegas, Nevada
Duration: 12 hours (approx.)
444 Reviews
Take a helicopter flight into the depths of the Grand Canyon for a champagne picnic 3,200 feet (960 meters) below the canyon rim. Enjoy a low-level flight over ... Read more
Location: Las Vegas, Nevada
Duration: 3 hours 30 minutes (approx.)
145 Reviews
Experience the Grand Canyon like a VIP on this luxury helicopter tour during sunset. From Boulder City, enjoy a magical helicopter flight over Lake Mead and ... Read more
Location: Las Vegas, Nevada
Duration: 5 hours (approx.)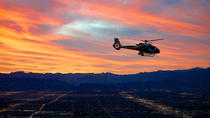 107 Reviews
Take a sunset helicopter flight over Hoover Dam before flying over the Las Vegas Strip on an exciting twilight adventure.
Location: Las Vegas, Nevada
Duration: 2 hours (approx.)
134 Reviews
Take in breathtaking views with a Grand Canyon helicopter tour from Boulder City, Nevada. You'll soar over the Grand Canyon during a 35-minute helicopter ... Read more
Location: Las Vegas, Nevada
Duration: 4 hours (approx.)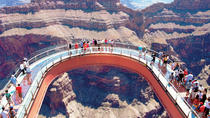 42 Reviews
Savor a comprehensive Grand Canyon experience on this morning or afternoon tour from Las Vegas featuring an airplane ride to the West Rim and optional upgrades ... Read more
Location: Las Vegas, Nevada
Duration: 7 hours (approx.)
100 Reviews
Combine a Grand Canyon helicopter flight with a river float down the Colorado River for an incredible and exciting day tour from Las Vegas! Start your day with ... Read more
Location: Las Vegas, Nevada
Duration: 11 hours (approx.)
6 Reviews
After 30 minutes on the canyon floor, board your helicopter to return to Las Vegas on a slightly different route that affords excellent views of the Las Vegas ... Read more
Location: Las Vegas, Nevada
Duration: 3 hours 30 minutes (approx.)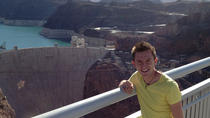 1 Review
See both the Grand Canyon and the Hoover Dam on this combo tour from Las Vegas. Your day will start with an aerial tour from Boulder City over the West Rim ... Read more
Location: Las Vegas, Nevada
Duration: 6 hours 30 minutes (approx.)