The Grand Canyon is one of the seven natural wonders of the world, so it's clearly an experience not to be missed. You have a few options, and it's not always easy sorting between them. If you're wondering where to go in the Grand Canyon and how to get there from Las Vegas, read on.
By Road
If you drive to the Grand Canyon from Las Vegas, your likely destination is the
West Rim
or
South Rim
(the
North Rim
is a long drive). Either way you're first stop should be the lookout point over
Hoover Dam
and Lake Mead. From there travel through an ancient
Joshua Tree
forest to the West Rim, home of the
Hualapai Indian Nation
. The West Rim's blockbuster sites include views of the
Colorado River
at Guano Point, the Eagle Point Indian Village and the famous
Grand Canyon Skywalk
.
By Air
If you're short on time—or just interested in experiencing the Grand Canyon from a different angle—consider an air or helicopter tour. These typically depart from Las Vegas and make it easy to quickly, and safely, cover all three rims.
Best of all, you get some great views (both sunrise and
sunset
) from the air. Admire the ever-changing colors of the canyon walls at sunset on a helicopter flight to the West Rim, landing deep in the canyon for an unforgettable champagne picnic. Or explore Grand Canyon National Park along the South Rim with
breathtaking views from Mather Point
and Bright Angel Lodge Observatory. Or experience a
real working ranch on the remote North Rim
, with an airplane flight landing at a secluded airport deep in the canyon.

By Water
Raft down the mighty Colorado River
in the adventure of a lifetime. Your native Hualapai guide will lead you through the rapids, stopping to discover hidden canyons and waterfalls. If rafting sounds a bit too exciting, you can also take a
more leisurely pontoon-boat ride
from the West and South rims.
1456 Reviews
Sit back and relax as your coach driver takes you on a narrated journey from Las Vegas to the South Rim of the Grand Canyon. You can upgrade your tour to ... Read more
Location: Las Vegas, Nevada
Duration: 15 hours (approx.)
4715 Reviews
Hit the highway out of Las Vegas and spend the day touring the Grand Canyon and Hoover Dam. On this day trip you'll have four hours at the Grand Canyon, with ... Read more
Location: Las Vegas, Nevada
Duration: 12 hours (approx.)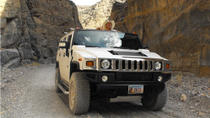 124 Reviews
Get out of the hustle and bustle of Las Vegas and explore some of the vast land that surrounds the Grand Canyon. On the Grand Canyon West Rim tour, you'll see ... Read more
Location: Las Vegas, Nevada
Duration: 9 hours (approx.)
377 Reviews
Fly like an executive on a deluxe flight from Las Vegas to the Grand Canyon West Rim aboard an elite airplane. At the Grand Canyon you can walk out on the ... Read more
Location: Las Vegas, Nevada
Duration: 6 hours (approx.)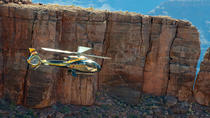 47 Reviews
Soar over Hoover Dam, Lake Mead and the Colorado River on this exhilarating Grand Canyon helicopter tour! Taking off from the Las Vegas heliport, admire ... Read more
Location: Las Vegas, Nevada
Duration: 90 minutes (approx.)
282 Reviews
Your multi-perspective adventure from Las Vegas begins with a deluxe flight to the Grand Canyon South Rim on an executive-style airplane. At the Grand Canyon ... Read more
Location: Las Vegas, Nevada
Duration: 7 hours (approx.)
6304 Reviews
Take off from Las Vegas Airport on an exhilarating helicopter flight to the Grand Canyon. You'll enjoy a 45-minute helicopter flight each way, land deep in the ... Read more
Location: Las Vegas, Nevada
Duration: 3 hours 30 minutes (approx.)
548 Reviews
Travel by coach, helicopter and boat on an action-packed day trip to the Grand Canyon West Rim. It's one of the Las Vegas tours you can't miss! You'll ride a ... Read more
Location: Las Vegas, Nevada
Duration: 12 hours (approx.)
100 Reviews
Combine a Grand Canyon helicopter flight with a river float down the Colorado River for an incredible and exciting day tour from Las Vegas! Start your day with ... Read more
Location: Las Vegas, Nevada
Duration: 11 hours (approx.)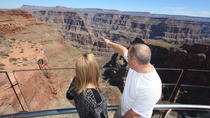 188 Reviews
Take a deluxe helicopter tour from Las Vegas to the Grand Canyon West Rim. At the Grand Canyon, you'll have time to explore its beauty on your own and then ... Read more
Location: Las Vegas, Nevada
Duration: 7 hours (approx.)