Sure, you can drive through the desert or even walk through the desert with a horse with no name. But there's only one way to really experience the desert and that's on an adrenaline-charged
dune-buggy ride
!
Get behind the wheel of a one- or two-seater dune buggy, wearing a full-face helmet and harness of course, properly prepped about the ins and outs of driving these
crazy-looking vehicles
– and you get to drive off-road through some of the most challenging terrain in the USA.
Dune-buggy rides from Las Vegas blaze their way through the Valley of Fire and the Nellis Dunes. You might whiz past big-horn sheep in the red, red desert of the
Valley of Fire
, a state park 50 miles (80 km) northeast of Las Vegas. This landscape of red sandstone rocks and sand dunes lights up in the sunshine, especially at sunrise and dusk. You'll see rocks eroded into incredible shapes at Valley of Fire, plus ancient petroglyph carvings.
The
Nellis Dunes
take in a sequence of sand dunes, dry river beds and desert, with out-there names like Look Out Dune and Rattle Snake Cliffs. From your dune vantage point, you'll be able to make out the Las Vegas Strip and even Lake Mead twinkling in the distance. The sandy hills are just 15 miles (24 km) north-east of Las Vegas, ideal for some off-road recreation near the Strip.
So you know, all dune buggies are specially custom built for the rugged Nevada terrain. They come equipped with roll cages, seatbelts, goggles and helmets for your safety. Driving them is similar to getting behind the wheel of your family car, with a steering wheel, brake pedal, and gas pedal – but that's where the similarity ends!
Driving a dune buggy isn't about aiming at rocks and hoping for spills and thrills – if you aim at rocks you'll spill and it won't thrill. It's your responsibility to operate the vehicle appropriately, so stay safe out there!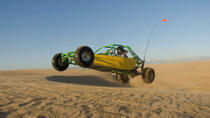 126 Reviews
Take the most advanced, fast-paced and adrenaline-fueled buggy tour there is in Las Vegas. This tour is featured in Rolling Stone as Vegas' Best Near-Death ... Read more
Location: Las Vegas, Nevada
Duration: 3 hours (approx.)
124 Reviews
This extreme RZR tour through Hidden Valley and Primm Valley from Las Vegas will take you on a challenging and exhilarating ride through rugged desert and ... Read more
Location: Las Vegas, Nevada
Duration: 6 hours (approx.)
102 Reviews
No experience necessary on this ATV/quad bike adventure tour from Las Vegas to the Hidden Valley. Escape the pavements of Las Vegas and have lots of fun as ... Read more
Location: Las Vegas, Nevada
Duration: 6 hours (approx.)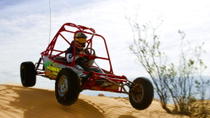 30 Reviews
Take an exhilarating shake, rattle and roll tour of the Nellis Dunes by dune buggy from Las Vegas. You'll feel the wind in your face as you traverse dry river ... Read more
Location: Las Vegas, Nevada
Duration: 3 hours 30 minutes (approx.)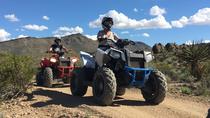 26 Reviews
Back by popular demand! If you've ever dreamed of riding an ATV in Nevada's Mojave desert, this is the tour for you. All you need is a thirst for ... Read more
Location: Las Vegas, Nevada
Duration: 4 hours (approx.)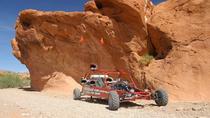 22 Reviews
Drive a buggy on a guided off-road adventure through the dramatic red rock formations of the Valley of Fire. Take a smooth and easy ride through the ... Read more
Location: Las Vegas, Nevada
Duration: 7 hours 30 minutes (approx.)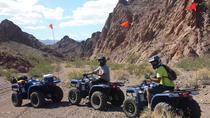 6 Reviews
Spend the first half of your day riding through the Lake Mead National Recreation Area on this ATV tour from Las Vegas. Learn the history of Lake Mead, ... Read more
Location: Las Vegas, Nevada
Duration: 6 hours 30 minutes (approx.)