The mighty
Colorado River
runs from Colorado through Utah, Arizona, Nevada and California and into Mexico. The approximate 1,450-mile (2,330-kilometer) river is most well-known for being the waterway that runs through the Grand Canyon, Hoover Dam and the Black Canyon.
River-rafting
in either the Grand Canyon or Black Canyon is an exciting activity that will get you out of the neon jungle and into an area deeply blessed by Mother Nature; it's especially welcome on a hot Vegas day.
Rafting the waters through the
Black Canyon
is actually a calm experience; there are no rapids – you'll
simply float along
, maybe stop for a swim, admire the canyon's beauty and look for wildlife. If you're after true
white-water rafting
, the Grand Canyon is where you want to be. Most tours from Vegas hit class 3 to 6 rapids (on the Grand Canyon's scale of 1 to 10) for a wet and wild ride that is a must-do for outdoor-enthusiasts.
100 Reviews
Combine a Grand Canyon helicopter flight with a river float down the Colorado River for an incredible and exciting day tour from Las Vegas! Start your day with ... Read more
Location: Las Vegas, Nevada
Duration: 11 hours (approx.)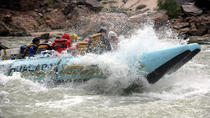 33 Reviews
Experience a thrilling adventure as you raft down the mighty Colorado River along the sheer cliffs of the Grand Canyon. Also included in this exciting white ... Read more
Location: Las Vegas, Nevada or Flagstaff, Arizona
Duration: 17 hours (approx.)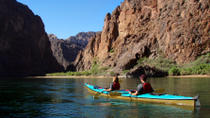 50 Reviews
Leave the bustle of Las Vegas behind for a full-day kayak trip through the Black Canyon on the Colorado River. Perfect for paddlers of all skill levels, this ... Read more
Location: Las Vegas, Nevada
Duration: 12 hours (approx.)
115 Reviews
Get ready for the adventure of a lifetime! Raft down the mighty Colorado River along the Grand Canyon's sheer cliffs. Also included in this exciting day trip ... Read more
Location: Las Vegas, Nevada
Duration: 15 hours (approx.)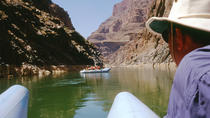 Enjoy a great combo tour with this tour that includes a helicopter flight to the Grand Canyon followed by rafting through the magnificent Black Canyon. A truly ... Read more
Location: Las Vegas, Nevada
Duration: 10 hours (approx.)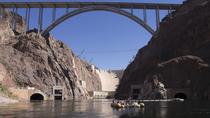 Escape the craziness of Las Vegas for a day on the beautiful Colorado River. You will be transported to the Lake Mead National Recreation Area, and then onto ... Read more
Location: Las Vegas, Nevada
Duration: 6 hours (approx.)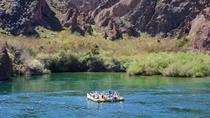 193 Reviews
Enjoy calm waters and magnificent scenery on this unique rafting day trip between the Black Canyon cliffs on the Colorado River. Relax and admire beauty of ... Read more
Location: Las Vegas, Nevada
Duration: 8 hours (approx.)
Take a guided half-day paddleboard tour along the Colorado River and see much of what the desert landscape has to offer on the water. Make stops at both Willow ... Read more
Location: Las Vegas, Nevada
Duration: Flexible
Experience the water by bike, a unique hybrid water experience. This guided half-day tour will take you on a 6-mile journey down the Colorado River with stops ... Read more
Location: Las Vegas, Nevada
Duration: Flexible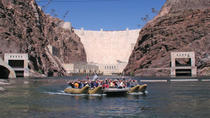 131 Reviews
Travel to Hoover Dam from Las Vegas in style and comfort aboard a luxury SUV. Your experienced guide will share many points of interest along the way so you ... Read more
Location: Las Vegas, Nevada
Duration: 5 hours (approx.)