Las Vegas attractions
More things to do in the area
Showing 11-20 of 96 attractions in Las Vegas
The Eiffel Tower, a monumental tourist draw connected to the Paris Hotel and Casino, offers views of the valley and a chance to dine on the finest French cuisine Las Vegas has to offer. C'est vrai!Enjoy a ride to the top of the Eiffel Tower in a glass elevator. At fifty stories above ground and at a height of 460 ft (140 m), the view is impressive. Once you've reached the observation deck, you'll have a vista of the entire valley and the sights of Sin City.Located below the observation deck is the Eiffel Tower Restaurant, which is a definite feast of the senses. Featuring views of the Bellagio water fountain show, the restaurant showcases both the design of the tower and of its art déco motif. For food, Chef Joho has a classic and updated French menu that you can enjoy with a cocktail or glass of wine.
More
5 Tours and Activities
---
When it comes to Las Vegas, City of Sin, and a cluster of neon lights, hiking isn't the very first thing that comes to most people's minds. The reality, however, is that Vegas is surrounded by dozens of great hiking trails and rung by mystical mountains, with the trail to the top of Fortification Hill offering one of the area's best views. From the top of this rocky pinnacle inside of Lake Mead National Recreation area, climbers are rewarded with panoramic views of Lake Mead and the Hoover Dam. This six-mile trail is for serious hikers who are comfortable with a little bit of bouldering, as sections in the middle can require scrambling for about 10 vertical feet. Most of the trail is straightforward, however, albeit a little steep, as the trail gains approximately 1,400 feet in a little under three miles. While you're sure to work up a sweat when climbing—especially since there isn't any shade—the view from the top makes every step completely worth the effort.
More
8 Tours and Activities
---
Talk about a wedding to remember! The Special Memory Wedding Chapel offers memorable wedding ceremonies in true Las Vegas style: in packages and with Elvis Presley, but minus the grub associated with chapels typically found on the Strip! The chapel is most popular for its famous drive-through weddings, which continue to gather hordes of visitors even today. Visitors wishing to tie the knot should expect all the Las Vegas wedding elements: Elvis impersonator, limousine transportation, rose presentations, photo tour packages in the city and more. An attraction in its own right, the off-Strip and classy chapel is featured in a dozen guided tours around Las Vegas, and should please even the non-Vegas wedding types.
More
7 Tours and Activities
---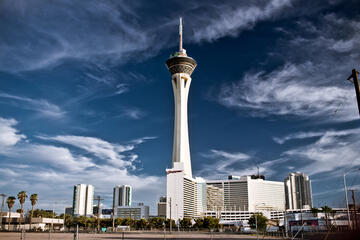 ---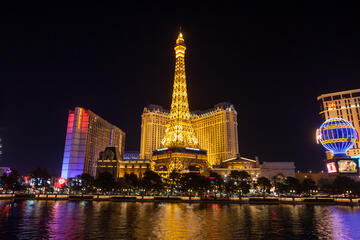 Lined with cobblestone walkways and iron street lamps, the Paris Hotel and Casino offers a small taste of Paris in Las Vegas. With its Parisian-style shopping and restaurants, plus a 50-story tall Eiffel Tower out the front, a stay here might just be as good as the real thing. For shopping, Paris offers a walk down the Bally's-Paris Promenade or Le Boulevard, housing French designs, small boutiques, and the latest fashions. Then there are the shows, featuring the talents of everyone from singer Barry Manilow to the hypnotist Anthony Cools.
More
10 Tours and Activities
---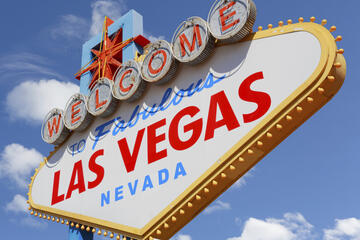 ---
Adventuredome is America's largest indoor theme park, and is situated within the Circus Circus resort in Las Vegas. The park is connected to the hotel via a large glass dome, and features various rides and attractions, from huge roller coaster rides to family friendly games and activities. One of Adventuredome's most popular rides is the Canyon Blaster, the world's only indoor double-loop, double-corkscrew roller coaster, which reaches speeds of up to 55mph. Other attractions include a pirate ship, slingshot, bumper cars, video arcades, rock climbing, FX movies, and clown shows. Because the park is all located inside, it is not affected by the weather and is open all year round. In October, the Adventuredome transforms into 'Fright Dome' – an alternative Halloween-themed park.
More
2 Tours and Activities
---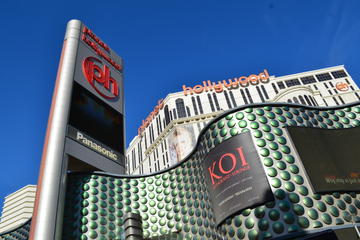 Planet Hollywood is home to about ten restaurants, a 100,000-square-foot casino and a handful of theatres including V Theatre. In addition to a few low-on-the-radar shows, Planet Hollywood usually has at least one legendary artist performing on a short residency (Meat Loaf, The Jacksons and CeeLo Green have been past artists) and is now home to pop star Britney Spears and her show "Britney: Piece of Me." Wrapped around Planet Hollywood is the Miracle Mile, a shopping mall with 170 stores and 15 additional restaurants. Stores feature known brand names such as H&M, Urban Outfitters, Puma, Diesel and American Apparel. Despite the fact that Bellagio is just across the street, the Miracle Mile has its own fountain show, which features lighting effects, color-changing fog and water that shoots 50 feet in the air.
More
15 Tours and Activities
---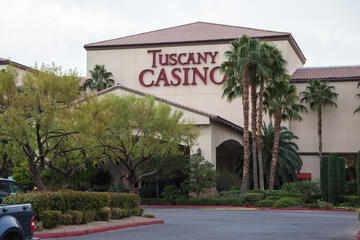 ---
Open since 1989, the Mirage is perhaps best known for Siegfried & Roy's Secret Garden and Dolphin Habitat, which features rare breeds of large, white-colored cats as well as several bottlenose dolphins. The resort's volcano is also well known with more than 150 specially designed fire shooters that blast fireballs choreographed to music nightly every hour on the hour from 5:00 p.m. to 11:00 p.m. Inside the Mirage, guests enjoy more than 100,000 square feet of gaming space including hundreds of slot machines and video poker and a dozen table games. The resort's 20-table poker room hosts games 24 hours a day, and daily no limit Texas hold 'em tournaments up the ante for serious players. Those who are new to poker may want to take advantage of the Mirage's complimentary poker lessons, which are available anytime. Ask inside the poker room about where these lessons are taking place and learn about all aspects of the game.
More
11 Tours and Activities
---