Launceston RECOMMENDATIONS See all
3 Days in Launceston: Suggested Itineraries
By Viator, August 2014
No reviews, be the first!
Launceston is a popular base for touring Tasmania's north coast region, with great accommodation and dining options, and the nearby Tamar Valley for wine-tasting day trips.
Day 1: Explore Launceston

Follow Launceston's Victorian-era grid of tree-lined streets down to the South Esk River and the city's highlight, Cataract Gorge. Walking trails wind through the gorge to the First Basin swimming pool and suspension bridge. There are cafes, peacocks and views over the gorge to enjoy before following the trail back down to the Tamar River bridge. Then spend the afternoon visiting one of Launceston's many museums and galleries, with Tasmanian art and history at the Queen Victoria Museum & Art Gallery, crafts at the Design Centre, and cars at the National Automobile Museum. To wind down at the end of the day, wet your whistle at Boag's Centre for Beer Lovers, featuring fine ales brewed by Tasmanian brewers, Boag's.

Day 2: Tamar Valley

The next day, wine is on the menu with a road trip circuit following the Tamar Valley Wine Route. Looping north from Launceston along the banks of the Tamar River, the route takes in Ninth Island wines and vineyard lunches at Rosevears, passing through country towns set in fertile countryside. Maritime relics and colonial heritage are on show at George Town, and in 2006 the town of Beaconsfield hit the news when a rock fall trapped two miners underground for a fortnight. There's more to learn about Beaconsfield and the mine at the town's mine and heritage museum.

Day 3: Colonial towns

On day 3, hit the road by coach or self-drive tour to discover the ring of colonial towns surrounding Launceston with history and heritage. Snap photos of picture-perfect Georgian buildings ringing the village green in Westbury, and the sandstone architecture lining the main street in Evandale. Stately homes and landscaped estates erected by Tasmania's colonial aristocrats include Clarendon Homestead, Woolmers, Brickenden and Entally House. Many of the towns' lovely historic buildings have been converted into boutique accommodation, restaurants and cafes, combining modern-day luxuries with authentic heritage style.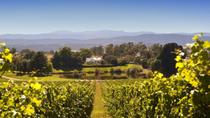 5 Reviews
Enjoy a winery tour, tasting and lunch at Josef Chromy Wines, a state-of-the-art winery located near Launceston. Surrounded by beautiful landscaped gardens ... Read more
Location: Launceston, Australia
Duration: 2 hours 30 minutes (approx.)