Ruins of León Viejo Tours
See the streets of old León, one of the oldest Spanish settlements in the New World, at the ruins of León Viejo. Founded by conquistador Francisco Cordoba in 1524, the lively city was abandoned in 1610, after a huge earthquake caused locals to reassess the town's precarious location, surrounded by belching volcanoes. It was decided that a new town of León would be built 20 miles west, and León Viejo was left to crumble under falling ash and volcanic stones of Mount Momotombo.
Rediscovered in 1967 by the National University, León Viejo is the only 16th-century, colonial city in the New World that was never developed beyond its original site plan. Its ruins today are classified as a UNESCO World Heritage site.
At the ruins, wander the old city's three-foot-high remains and see the layout of 16 of the city's originals structures, including the old plaza, convent, cathedral and fort.
When you visit, you will be provided with a guide for a 45-minute tour, and there are plenty of interpretive signs provided in both English and Spanish.
Practical Info
To get to León Viejo, take the bus to the town of La Paz Centro, which is on the highway between Managua and León. From La Paz, local buses regularly head to the ruins. If you're coming by public transport, it's best to visit in the morning as the last bus from La Paz to León is at 2pm. León Viejo is open from 8am to 5pm daily, and entrance costs $2, which includes the price of your guided tour.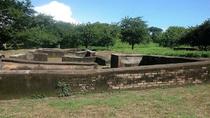 On this 2-hour private walking tour, ramble through Leon Viejo, Nicaragua's first capital city and UNESCO World Heritage site. Enjoy a guided tour of the ruins ... Read more
Location: León, Nicaragua
Duration: 2 hours (approx.)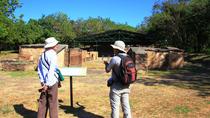 Visit where Flor de Caña produces one of the world´s finest rums and León Viejo, first capital of Nicaragua, which was founded in 1524 by the Spanish ... Read more
Location: Corinto, Nicaragua
Duration: 7 hours 30 minutes (approx.)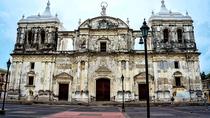 The ruins of Leon Viejo is an archaeological site and park of the original town of Leon founded by the Spanish conquistador Francisco Hernandez de Cordoba. ... Read more
Location: Managua, Nicaragua
Duration: Flexible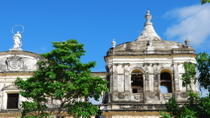 9 Reviews
Visit the colonial city of Leon on this day trip from Managua. Explore two UNESCO World Heritage Sites, Leon Viejo and the Cathedral of Leon, and learn about ... Read more
Location: Managua, Nicaragua
Duration: 8 hours (approx.)