Battlefield Tours from Lille
By Viator, June 2015
Lille was once part of Flanders, a region in Belgium. Flanders, and in particular, Ypres (also known as the Salient), some 120km (75mi) from Lille, saw the most intense battles of the First World War on its soil.
 
World War I, also known as the Great War, was a military conflict centered around trench warfare that led to the deaths of over 15 million people. Believed to have been sparked by the assassination of Archduke Franz Ferdinand of Austria (which disrupted the precarious European balance of power), WWI began in 1914 and raged on for four years, finally finishing in 1918, when the United States joined the war and helped the Allies drive back the German army.

Entire generations of young men lost their lives in the conflict, which forever changed the map of Europe. The battlegrounds, memorials, graveyards and monuments erected to the missing or the unidentified dead are visited today by thousands of relatives and tourists. Most day-trips or multiple day-trips to the battlefields depart from Lille and nearly all visitors choose to base themselves here.

You can visit the Ypres Salient battlefields on a day trip from Lille . This tour takes in some of the most important WWI sites, in the company of a guide. You'll see the German cemetery in Langemark; the site of the first gas attack by Vancouver Corner, where flame throwers were introduced into modern warfare; John McRae's Essex Farm site; Hooge crater and museum; Passchendaele; and Tyne Cot cemetery. You can also spend time in Ypres itself and have the opportunity to visit St. George's Chapel and the Menin Gate Memorial as well as the memorials of dozens of British, Australian and Canadian regiments on the Hill 60 Battlefield.

Another popular day trip is to the Somme in Northern France. To most people the Somme signifies one day - July 1st 1916. It was the day that the British Army suffered its greatest ever losses in a single day with nearly 60,000 casualties. There are many poignant sites here, including the incredibly well preserved Beaumont Hamel battlefield site.

For those wishing to immerse themselves more fully into the history of the Great War and its battlefields, there are two-day and three-day tours available.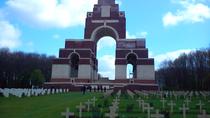 3 Reviews
You will see the Australian Soldier of Bullecourt, Le Hamel where John Monash used for the 1st time tanks and infantry on a modern way, Albert and Thiepval ... Read more
Location: Arras, France
Duration: 9 hours (approx.)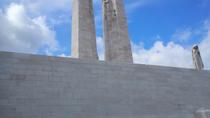 1 Review
Stand in the tunnels where Canadian troops stood before the assault on Vimy Ridge, visit the Canadian and German trenches. You will see the scattered landscape ... Read more
Location: Bruges, Belgium
Duration: 9 hours (approx.)