Pedro de Osma Museum (Museo Pedro de Osma) Tours
Originally founded in 1948 to showcase the vast private collection of aristocrat Pedro de Osma Gildemeister, the Museo Pedro de Osna took on its current name in 1987 and has since earned itself a reputation as one of the city's most intriguing museums. Located in the Barranco district of Lima, close to the Bridge of Sighs, the museum is housed in the ornate Palacio de Osma, a stately mansion encircled by landscaped gardens and decked out with intricate wood inlay floors, hand-painted frescos and exquisite stained-glass windows.
The permanent collection of the Museo Pedro de Osna includes an array of Peruvian art, sculptures, colonial furnishings and silverware, spread throughout a series of richly decorated theme rooms. Items date from the 16th to 19th century, with a strong focus on religious art from the Cuzco, Arequipa and Ayacucho regions, including works painted on varied materials, among them linen, metal, wood, glass and leather. Highlights include the dazzling Silver Gallery, a number of beautifully preserved antique altarpieces, the 18th-century Virgen de Pomato painting and a selection of wooden furniture inlaid with pearls.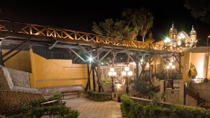 3 Reviews
Visit Barranco, one of Lima's most beautiful neighborhoods, accompanied by a private guide. Discover the history behind this bohemian quarter, known for its ... Read more
Location: Lima, Peru
Duration: 4 hours (approx.)