Surfing in Lima
By Viator, May 2018
Peru is becoming increasingly popular among surfers eager to ride the waves along South America's long Pacific coastline. Lima itself has more then 150 miles of surf, with a wide range of surfing options, including some in Lima proper, though the best surfing is found further down the coast to the south.

In Lima, you can usually find surfers at Waikiki beach and Makaha beach in Miraflores, both of which are considered good places for beginners. Further down the coast in the district of Chorrillos is La Herradura beach, which is more appropriate for experienced surfers. La Herradura is known for its big swells and strong left break.

Serious surfers tend to migrate south to the district of Punta Hermosa, which has some of the best surfing in Peru. Punta Hermosa is the birthplace of world champion surfer Sofia Mulanovich and home to Pico Alto, a beach for expert surfers where waves average over 13 feet! Nearby, Cabelleros beach is a good for intermediate surfers.

The best swells hit Lima and the surrounding coastline from May to August. Water temperatures range from 61 F in the winter to 70 F in the summer.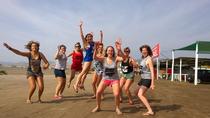 3 Reviews
Enjoy a 90-minute surf lesson with all equipment such as wetsuits, surfboards, leash, wax, surf booties included. You will be accompanied by certified surf ... Read more
Location: Lima, Peru
Duration: Flexible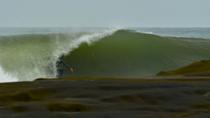 1 Review
Take the waves while in Lima and spend the day surfing at some of the best, hidden spots that only the locals know. Don't waste time guessing when the tide is ... Read more
Location: Lima, Peru
Duration: Flexible