1312 Reviews
Address:

Estrada da Pena, 2710-609, Sintra Portugal, Portugal

Hours:

April 1 to September 30: 9:45am - 7pm. October 1 to March 31: 10am - 5pm. Check website for admission costs!

Admission:

12 - 13.5 EUR
Pena National Palace
Technically, UNESCO considers the entire cultural landscape of Sintra the World Heritage Site here, but the crown jewel is the royal Pena National Palace. Considered the greatest example of 19th-century Romanticism in the world, the palace sprawls on a hilltop high above Sintra, and can often be seen from Lisbon, 17 miles away. Commissioned by then-king Ferdinand II on the site of a ruined 15th-century monastery and completed in 1854, the fanciful red-and-yellow palace is an exotic mix of Gothic, Egyptian, Moorish and Renaissance style elements.

Designed by mining engineer and amateur architect Baron Wilhelm Ludwig von Eschwege as a summer house for the royal family, the interior of Pena features ornate stuccos, multi-patterned columns, Moorish-arched ceilings, and much of the original monastery's chapel. The exterior is festooned with allegorical carvings, references to Biblical stories and religious icons, as well as lavishly painted Portuguese tiles. The most complete view of the palace complex, including an enormous, turreted clock-tower, can be glimpsed from the Queen's Terrace.

Surrounding the palace is the 500-acre Pena Park, an organic jumble of trees and plants from around the globe. Fitting for a country well-versed in ocean-bound exploration, trees and ferns here hail from China, Australia, New Zealand, North America and more. The eclectic nature of this assembled forest heightens the exotic impression of the palace, completing the Romantic picture.

Portugal exiled its last royals in 1910, and the palace has been a national monument and museum ever since. Along with its neighboring landscape, Pena was declared a UNESCO World Heritage Site in 1995.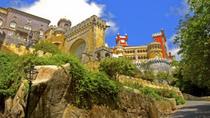 804 Reviews
Experience the natural and historical beauty of Portugal on a small-group day trip from Lisbon to Sintra and Cascais. Just a few hours from Portugal's capital ... Read more
Location: Lisbon, Portugal
Duration: 8 hours (approx.)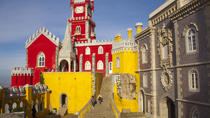 10 Reviews
Enjoy a day trip to Sintra on this small-group tour (up to 8-travelers) from Lisbon. Spend your day seeing all the major highlights, such as Pena Palace and ... Read more
Location: Lisbon, Portugal
Duration: 8 hours (approx.)
67 Reviews
Enjoy a half-day trip from Lisbon to Sintra to see one of Portugal's most popular attractions, the massive, gorgeous Pena Palace (Palácio da Pena), ... Read more
Location: Lisbon, Portugal
Duration: 5 hours (approx.)
191 Reviews
Discover a world of fairy tale palaces and gardens on this full-day tour to Queluz and the UNESCO-listed town of Sintra from Lisbon. Once a decadent retreat ... Read more
Location: Lisbon, Portugal
Duration: 8 hours (approx.)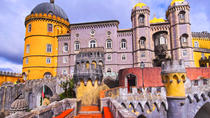 3 Reviews
Leave Lisbon for the lush hills of Sintra on a private day trip. Visit the historical town of Sintra and the magnificent Pena National Palace, an exuberant ... Read more
Location: Lisbon, Portugal
Duration: 8 hours (approx.)
6 Reviews
Explore Lisbon's grandiose landmarks and charming promenades during this 4-hour small-group guided tour with tastings. Aboard a minivan, discover the ... Read more
Location: Lisbon, Portugal
Duration: 8 hours (approx.)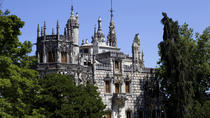 Delve into Portugal's rich history on this private full-day tour of Sintra from Lisbon. A UNESCO-listed heritage site, Sintra is famous for it's opulent ... Read more
Location: Sintra, Portugal
Duration: 8 hours (approx.)
Enjoy a day away from the city and visit Sintra a beautiful romantic town filled with Palaces, gardens, underground ways, waterfalls. Have the chance to be at ... Read more
Location: Lisbon, Portugal
Duration: 8 hours (approx.)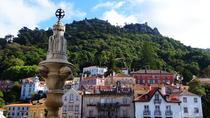 4 Reviews
Spend a day in two of Portugal's most charming small towns during this full-day tour to Sintra and Cascais from Lisbon. See Sintra's famous Quinta da ... Read more
Location: Lisbon, Portugal
Duration: 8 hours (approx.)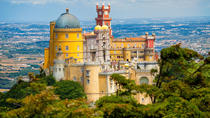 5 Reviews
Sintra, the capital of romanticism, is one of the most picturesque and beautiful villages of Portugal. The monuments have a grand architecture full of stories ... Read more
Location: Sintra, Portugal
Duration: Flexible