Lisbon is a dream to explore; just hop on Tram 28 or hire an e-bike to scale the city's seven hills with ease. If time permits, there's so much to see outside the city as well, from royal palaces to wild coastlines and mysterious standing stones. Guided day trips are the smartest way to explore beyond Lisbon, and come in a variety of combinations and packages to fit individual interests.

Day trips from Lisbon to the UNESCO World Heritage listed town of Sintra kick off with guided tours of its magical palaces. Later, a drive through pine-swathed hills leads to the western edge of Europe at the rugged cliffs of Cabo da Roca – and that's all before exploring the traditional fishing village of Cascais and driving back to Lisbon along the wild Atlantic coastline.

Within easy reach of Lisbon there's a cross-section of traditional villages to discover; a tour of fortified Óbidos combines perfectly with lunch in the fishing village of Nazaré, famous for its surfing waves, and guided visits to the UNESCO-listed monasteries at Batalha or Alcobaça and Portugal's most sacred sight, the Sanctuary of the Virgin Mary at Fátima.

To uncover the story of the mysterious Knights Templar, the Christian militia that played a monumental part in medieval European history, take a guided boat trip to fortified Almourol Castle, sitting high over the banks of the Tagus River. Afterwards visit Constância and the 12th-century Knights Templar strongholds at Tomar and Ourém.

Learn about Portugal's Neolithic and Roman history on day trips to the standing stones and classical ruins in the ancient city of Évora before heading to the marble-clad medieval royal palaces of Vila Viçosa. Alternatively combine Évora's ancient culture with wine tasting on the Alentejo uplands, which are rapidly acquiring fame for producing excellent full-bodied red wines.

Another ideal day out for wine buffs is a trip to the mountainous region of Arrábida, south of Lisbon, for a visit to the cellars at Jose Maria da Fonseca followed by a tasting of their famous fortified Moscatel. Take in the walled hilltop castle at Palmela en route and lunch in the pretty fishing village of Sesimbra before stopping off to admire the massive statue of Jesus at the Cristo Rei Sanctuary in Almada.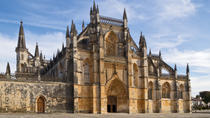 486 Reviews
Discover the history and natural beauty of Portugal on a small-group day trip to Fátima, Nazaré and Óbidos from Lisbon. One of the most ... Read more
Location: Lisbon, Portugal
Duration: 9 hours (approx.)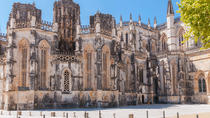 403 Reviews
Take a fascinating day trip from Lisbon to the Portuguese towns of Óbidos, Nazaré, Fátima and Batalha. During the day, explore the charming ... Read more
Location: Lisbon, Portugal
Duration: 9 hours 30 minutes (approx.)
67 Reviews
Enjoy a half-day trip from Lisbon to Sintra to see one of Portugal's most popular attractions, the massive, gorgeous Pena Palace (Palácio da Pena), ... Read more
Location: Lisbon, Portugal
Duration: 5 hours (approx.)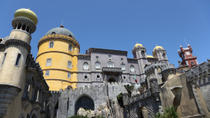 17 Reviews
Leave Lisbon on a private full-day tour that will take you along Portugal's unspoiled Atlantic coast to the historical towns of Sintra and Cascais. View the ... Read more
Location: Lisbon, Portugal
Duration: 8 hours (approx.)
191 Reviews
Discover a world of fairy tale palaces and gardens on this full-day tour to Queluz and the UNESCO-listed town of Sintra from Lisbon. Once a decadent retreat ... Read more
Location: Lisbon, Portugal
Duration: 8 hours (approx.)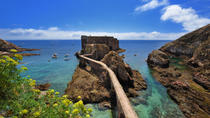 27 Reviews
Visit the postcard-perfect island of Berlenga Grande on this small-group day trip from Lisbon. Travel to the charming fishing village of Peniche, where you'll ... Read more
Location: Lisbon, Portugal
Duration: 10 hours (approx.)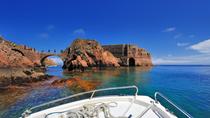 20 Reviews
Spend a day exploring Berlenga Grande on this private day trip from Lisbon. Following pickup from your hotel by private minivan, travel to the picturesque ... Read more
Location: Lisbon, Portugal
Duration: 10 hours (approx.)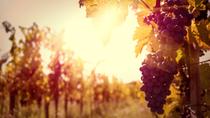 1 Review
Swap the crowded wineries of Setúbal for the traditional wine estates of the Ribatejo region on this private day trip from Lisbon. With your very own ... Read more
Location: Lisbon, Portugal
Duration: 10 hours (approx.)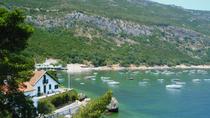 6 Reviews
Swap Lisbon's sights for the quaint charms of Sesimbra and Arrábida Natural Park on this day trip. Travel with an expert guide into the heart of ... Read more
Location: Lisbon, Portugal
Duration: 10 hours (approx.)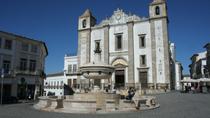 4 Reviews
Explore more of Portugal by getting out of Lisbon and heading to the Golden Plains, visiting the walled UNESCO-listed town of Évora and an ancient Roman ... Read more
Location: Lisbon, Portugal
Duration: 10 hours (approx.)