Whether you're adventure seeking or more laid back, a nature-lover or an animal lover, Livingstone offers some of the best outdoor activities in all of Africa. Extreme water sports, like whitewater rafting or kayaking, give even the most seasoned paddlers a thrilling experience. And level 5 rapids are just part of the excitement, since flipping the raft can result in close encounters with river crocodiles and water snakes. Those looking for a less-terrifying time can still enjoy the beauty of the Zambezi by taking a sunset cruise on more placid waters, where its possible to spot elephants and hippos saddling up to the river's edge.

Serious hikers will love the steep descent into the Boiling Point. This challenging trail moves across wet and rocky passes and through the thick rain forest of Victoria Falls Park. Less-fit nature lovers can still enjoy the scenery by wandering well-kept wooded trails closer to the falls. Waling the Knife-edge Bridge takes little physical endurance but still requires some serious guts, since the narrow footpath hovers just above the powerful spray of Victoria Falls.

Animal lovers can get up close with the King of the Jungle on lion walks with Lion Encounter. Here, visitors can stroll next to these massive cats and wander through preserved plains. A similar experience exists for those who prefer to walk with the endangered cheetah. Travelers anxious to see the Big Five from a distance can head just outside Livingstone to Kafue National Park, where game drives and self-guided experiences offer some of the best and most diverse views of birds and wildlife in sub-Sahara Africa.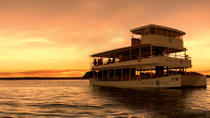 4 Reviews
See the sun set over the magnificent Zambezi River on a 2-hour evening safari cruise, with transport from Livingstone! Sip on a glass of Champagne as you ... Read more
Location: Livingstone, Zambia
Duration: 2 hours (approx.)