Ljubljana Old Town Tours
Presided over by its ancient hilltop castle and linked to the new town by the iconic Triple Bridge and Dragon Bridge, Ljubljana's picturesque Old Town is a warren of streets, clustered with popular sights. At the heart of the Old Town, the 15th-century Ljubljana Castle steals the limelight, offering an unbeatable panorama from its viewing tower, but it's the lively street-side cafes and open-air markets below that make up the soul of the historic quarter.
Daily food and flower markets brighten up the riverbanks between Pogačarjev and Vodnikov squares and a medley of exquisite architecture provides a picturesque backdrop for a walking tour. Much of the riverside, bridges and walkways circling the Old Town are the work of renowned architect, Jože Plečnik, the visionary credited with the 20th-century remodeling of the city and his influence is apparent in the striking riverside marketplace, the column-lined Cobbler's Bridge and the tree-lined Levstikov Square.
Plečnik's creations aren't the only impressive structures in the Old Town though, and strolling the cobblestone streets serves up an array of intriguing buildings. Don't miss the 15th century Rotovž Town Hall redesigned by Gregor Maček in 1718 and featuring an impressive Gothic courtyard; the landmark Robba Fountain and Cathedral of St Nicholas; the Church of St. James, which features the highest bell tower in the city; and Ljubljana's oldest house, dating back to 1528 and standing at No.6 on Ribji trg.
Be sure to enjoy the Old Town in the evening too—some of the city's liveliest bars, cafes and nightclubs can be found along the waterfront and surrounding the castle quarter, and each summer the Ljubljana Summer Festival brings a varied roster of open-air concerts and events to the historic center.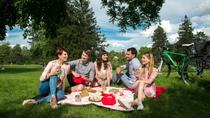 Compared to other capitals, Ljubljana is very small, very green, and very cyclist-friendly, which makes it a great place to explore by bicycle. This cycling ... Read more
Location: Ljubljana, Slovenia
Duration: 3 hours (approx.)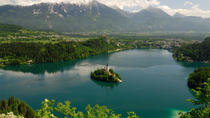 8 Reviews
Visit the charming Ljubljana, the capital city of Slovenia, and Bled, a popular tourist destination, which is considered one of the most beautiful alpine ... Read more
Location: Trieste, Italy
Duration: 7 hours (approx.)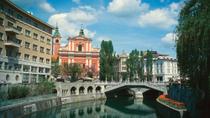 52 Reviews
See Ljubljana's highlights on a walking tour with a knowledgeable local guide. Explore Ljubljana Old Town, stroll through several squares, encounter city icons ... Read more
Location: Ljubljana, Slovenia
Duration: 2 hours (approx.)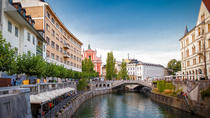 Visit the charming Ljubljana, the capital city of Slovenia, which is considered one of the most fascinating European cities. Let yourself be enthralled by its ... Read more
Location: Koper, Slovenia
Duration: 6 hours (approx.)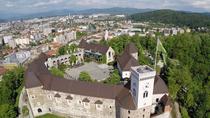 Visit the charming Ljubljana, the capital city of Slovenia, which is considered one of the most fascinating European cities. Let yourself be enthralled by its ... Read more
Location: Koper, Slovenia
Duration: 6 hours (approx.)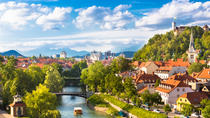 Just an hour from Nova Gorica you can visit the Capital of Slovenia. Ljubljana, The Green Europian Capital of 2016, will hoste us for a day. A nice walk along ... Read more
Location: Nova Gorica, Slovenia
Duration: 9 to 12 hrs