Ljubljana might not boast a landmark as world renowned as the Eiffel Tower or the Statue of Liberty, but those with an eye for design will find the city to be a hotbed of architectural talent, teeming with dramatic sculptures and Art Nouveau façades. 
Much of Ljubljana's architectural heritage can be attributed to one man - Slovene architect Joze Plecnik, whose work has become synonymous with the city. Remodeling the city's waterfront and main squares in the early 20th century, Plecnik's distinctive Art Nouveau style – an avant garde aesthetic known as Vienna Succession – has resulted in acclaimed works like the Triple Bridge, the Ljubljanica river embankments, the Open Market buildings and the Slovene National and University Library. Likened to the influence Gaudi had on Barcelona, Plecnik's creative flourish can be seen in streetlamps, balustrades, bridges and building facades all over Ljubljana, and his vast body of work is largely considered one of the most important of the 20th century.
While the city's modern identity can be accredited to Plecnik, Ljubljana's earlier architecture mostly stems from the Baroque period, rebuilt after the destruction of the great earthquake of 1511. The city's oldest building - No.6 on Ribji trg – dates back to 1528, but there are plenty of other historic houses to visit. In the Old Town, the hilltop Ljubljana Castle, the twin-towered Cathedral of St Nicholas, Francesco Robba's famous Fountain of Three Carniolan Rivers and Jurij Zaninovic's iconic Dragon Bridge, are all popular inclusions on a walking tour. Across the river, the central Preseren square is also home to a number of striking buildings, including the 16th century Franciscan Church of the Annunciation, and the Secessionist Hauptmann House and Urbanc House (Centromerkur).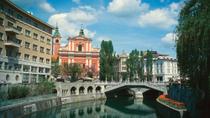 37 Reviews
See Ljubljana's highlights on a walking tour with a knowledgeable local guide. Explore Ljubljana Old Town, stroll through several squares, encounter city icons ... Read more
Location: Ljubljana, Slovenia
Duration: 2 hours (approx.)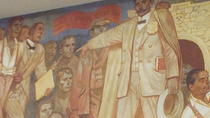 Enjoy this 4-hour tour and travel back in time and explore the life of ordinary people in Slovenia in post-World War II Yugoslavia.
Location: Ljubljana, Slovenia
Duration: 4 hours (approx.)