With its stunning Victorian architecture, landmark structures and the glittering stretch of the River Thames, London is a city that looks even more impressive from up above and thankfully, there are a number of great new ways to get a bird's eye view of the capital.

1. Up at The O2
The city's latest venture in elevated entertainment is the O2 Skywalk, or 'Up at The O2', a 90-minute climb over the famous domed roof of the O2 Arena in Greenwich.  The adrenaline pumping experience is not for the light-hearted, but it's worth the effort for the show stopping views from the central observation platform, teetering at a height of 53 meters off the ground.

2. The Shard
The capital's most sophisticated feat of modern design (courtesy of architectural visionary Renzo Piano), The Shard is not only an impressive sight on London's skyline, but it holds the title of the E.U's tallest building at a whopping 1,016 feet high. The intricate structure of glass panes, designed to appear like a gigantic 'shard of glass', is also home to the city's highest open-air viewing gallery, set to open its doors to the public in February 2013 and offering 360° views over the city's sights.

3. London Eye
Built in celebration of the new millennium back in 2000, the London Eye is not only the biggest Ferris wheel in Europe (towering 443 feet over the Thames river), but has fast become one of the capital's biggest tourist attractions with 3.5 million annual visitors taking to the skies for one of the best views in London.

4. St. Paul's Cathedral
One of London's principal landmarks, St. Paul's Cathedral is sure to grace your London itinerary, but make sure you take the 250-step climb up into the viewing galleries of the iconic dome. The final ascent to the outdoor viewing deck of the Golden Gallery affords a great bird's eye view of the Houses of Parliament and a wonderful view down the Thames.

5. Helicopter tours
If money's no issue, one of the most exhilarating ways to explore London from above is to take a helicopter tour over the city center – for the best views opt for a sunrise or sunset tour, and enjoy the expansive views over the Thames.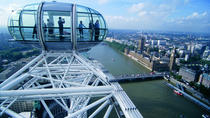 1370 Reviews
Skip the line for a perfect Coca-Cola London Eye experience! With fast track entry for your standard flight in a shared capsule, you get to skip the majority ... Read more
Location: London, United Kingdom
Duration: 30 minutes (approx.)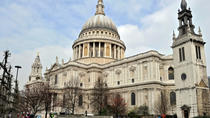 61 Reviews
Don't miss visiting one of the most iconic attractions in all of England – St Paul's Cathedral. You'll explore Sir Christopher Wren's masterpiece on your own, ... Read more
Location: London, United Kingdom
Duration: Varies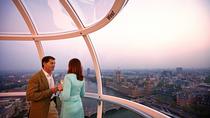 215 Reviews
No visit to London is complete without a trip on the London Eye! Indulge yourself with this breathtaking experience. Book a flight and add a glass of Pommery ... Read more
Location: London, United Kingdom
Duration: 30 minutes (approx.)
226 Reviews
Nab your ticket to 'The View from The Shard' and experience one of the finest views that London has to offer. This incredible architectural wonder will take ... Read more
Location: London, United Kingdom
Duration: Varies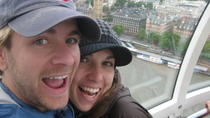 355 Reviews
Roll up, roll up. Get your combined tickets to two of London's top attractions: a trip on the London Eye and a Thames River sightseeing cruise. You'll save ... Read more
Location: London, United Kingdom
Duration: 1 Day Pass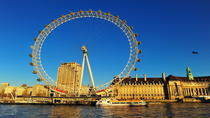 233 Reviews
Take an Coca-Cola London Eye River Cruise and see London from a different perspective. Highlights of the 40-minute circular cruise include Big Ben and the ... Read more
Location: London, United Kingdom
Duration: 60 minutes (approx.)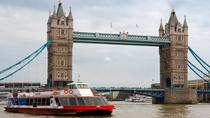 93 Reviews
Combine a visit to the Tower of London and a Thames River sightseeing cruise with this convenient one-day pass. You'll experience two of London's most popular ... Read more
Location: London, United Kingdom
Duration: 1 Day Pass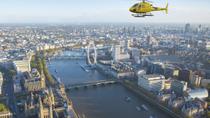 13 Reviews
Fly through the skies of London on a 12-minute or 18-minute helicopter flight, and take in aerial views of the capital's best-known sights! Follow the ... Read more
Location: London, United Kingdom
Duration: Varies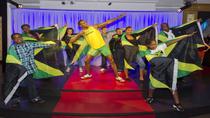 24 Reviews
Get your tickets now for two of London's most popular activities: Madame Tussauds and a Thames River sightseeing cruise. You'll save money on the deal and be ... Read more
Location: London, United Kingdom
Duration: 1 Day Pass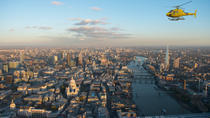 2 Reviews
Charter a private 18-minute helicopter flight over London and enjoy bird's-eye views of landmarks such as Buckingham Palace, Big Ben, The Shard, Houses of ... Read more
Location: London, United Kingdom
Duration: 18 minutes (approx.)