As ubiquitous to London as the red Double Decker bus and the traditional telephone box, there are hundreds of official black taxicabs darting through the traffic jams and whizzing up the back alleys of central London.

As the only London minicabs licensed to pick up passengers from the street, the license for driving a Black Cab - or a 'Hackney Carriage' as is the traditional name - comes via a surprisingly thorough training and testing process, taking up to 3 years for a new recruit to earn their green badge. Cab driving officially became a trade back in 1654, thanks to Oliver Cromwell's introduction of a Fellowship of Master Hackney Carriages but it wasn't until the 1850's that potential drivers were required to study and learn 'The Knowledge of London' (often dubbed 'the Knowledge'), the rigorous testing procedure still employed today. With 'The Knowledge' involving such detailed familiarity with central London locations (drivers have to learn some 25,000 streets with a 6 mile radius of Charing Cross Station including popular destinations and tourist attractions), it's not surprising to find that the humble taxi driver often excels as tour guide. In fact, their second-to-none knowledge of traffic patterns, short-cuts and scenic routes mean that you'll be able to cram in all the sights, hunt out the best photo spots and, hopefully, avoid the London's legendary traffic jams.

If you're lucky you'll get a few snippets of insider knowledge from the cabbie you flag down on the way back to your hotel, but for those seeking a more complete introduction to the sights and sounds of London city, there are some great Black Taxi tours available. Tours can be tailored to take you anywhere at any time and as your guide comes with their own vehicle, photo stops and detours can be undertaken whenever you desire.

Enjoy the 24 hour bustle of tourist hotspots like Trafalgar Square, Piccadilly Circus, Leicester Square and Soho without having to do more than roll down your windows and admire the views, or let your driver direct you to some of the lesser-known districts for a taste of the real London. You'll doubtless be treated to an abundance of local anecdotes and trivia, interspersed with plenty of quirky British humor, adding a new dimension to the most visited sights like Buckingham Palace, Westminster Abbey, St. Paul's Cathedral or the Houses of Parliament, and you'll even be delivered back to the door of your hotel.

For a particularly spectacular route, opt for a nighttime drive taking in the neon lights of the Thames, where sights like the Tower of London, Tower Bridge, Big Ben and the London Eye become dazzling silhouettes against the city backdrop. Or tailor your tour to your interests – a tour of famous film locations, for example, or a circuit of the Olympic sites.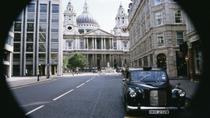 148 Reviews
From Diagon Alley to the Leaky Cauldron take a private black taxi tour of Harry Potter sites by black taxi. Nobody knows the streets of London like a cab ... Read more
Location: London, United Kingdom
Duration: 3 hours (approx.)
50 Reviews
Take a private black taxi tour of London's top attractions and hidden treasures with a knowledgeable guide. This family-friendly tour takes you to all the ... Read more
Location: London, United Kingdom
Duration: 4 hours (approx.)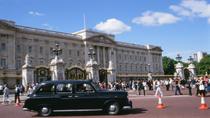 137 Reviews
What could be better than a tour of London by black taxi? With your own personal driver guide, you'll see London at your own pace. You can stop whenever you ... Read more
Location: London, United Kingdom
Duration: 2 hours (approx.)
10 Reviews
See top London sights from above and below ground on this private, 4-hour black cab tour! Guided by a knowledgeable and friendly driver, your tour includes a ... Read more
Location: London, United Kingdom
Duration: 4 hours (approx.)
3 Reviews
See all the sights of Royal London on this fascinating black cab tour with a private guide. Choose between a half-day or full-day tour and visit all the top ... Read more
Location: London, United Kingdom
Duration: Varies
3 Reviews
Find yourself hot on the heels of 21st-century sleuths Sherlock Holmes and John Watson on this 3-hour black cab tour of London's 'Sherlock' filming locations. ... Read more
Location: London, United Kingdom
Duration: 3 hours (approx.)