Immortalized in prose in Geoffrey Chaucer's 14th century tome, The Canterbury Tales, the southeast England city of Canterbury was once one of the most important pilgrimage sites in medieval Europe. Today, the city remains an important center of Christian worship with the magnificent UNESCO World Heritage-listed Canterbury Cathedral at its heart.

Dating back to the 11th century, Canterbury cathedral is largely regarded as the birthplace of English Christianity and the striking Gothic façade is one of the country's most impressive, celebrated for its medieval stained glass windows and 235-foot-high Bell Harry Tower. The ornate interiors also harbor the shrine of St Thomas Becket, the one-time Archbishop of Canterbury who was murdered in the cathedral in 1170 at the hands of King Henry II's knights. Today, a single candle marks the spot where Becket's tomb stood until 1538, when it was destroyed by a vengeful King Henry VIII.

Those wanting to learn more about the Cathedral's illustrious history can head to the nearby Canterbury Tales museum, where Chaucer's famous characters are brought to life in an entertaining medieval recreation, but there's more to the city than its most famous building. Spend your free time wandering around the Old Town, visiting sights like the ancient St Martin's Church, the oldest church still in use in the English-speaking world, the tilting 16th Century Sir John Boys' House and the ruins of the Norman-era Canterbury Castle. If you've still got time, take a boat trip along the River Stour or stroll through the pretty Dane John Gardens.

The quickest way to reach Canterbury is by train (just over 1 hour), but taking a guided Canterbury tour from London means you can combine your visit with nearby sights like the majestic Leeds Castle in Kent or the famous White Cliffs of Dover, both of which lie close by.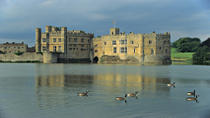 330 Reviews
Spend a day touring the highlights of Kent on this day trip from London. Enjoy an exclusive private viewing of beautiful Leeds Castle, visit UNESCO World ... Read more
Location: London, United Kingdom
Duration: 11 hours (approx.)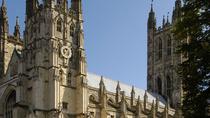 15 Reviews
On this mini coach tour, take a journey into the county of Kent. View the famous White Cliffs of Dover, explore Dover Castle, and visit historic Canterbury. ... Read more
Location: London, United Kingdom
Duration: 1 day (approx.)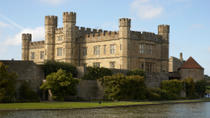 9 Reviews
Discover the oh-so-English delights of Kent on this exciting tour from London, and visit Canterbury, the White Cliffs of Dover and Leeds Castle in one day! ... Read more
Location: London, United Kingdom
Duration: 12 hours (approx.)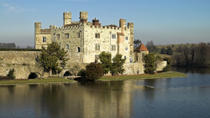 19 Reviews
Make the most of your journey to London after your cruise ends at the port of Dover. This convenient post-cruise transfer to your central London or Heathrow ... Read more
Location: London, United Kingdom
Duration: 8 hours (approx.)