As one of England's longest running TV shows (since 1963), with its most recent season showing in more than 50 countries around the world, there's no denying the iconic status of Brit TV series Doctor Who. The BBC science-fiction drama remains as hugely popular as it was 50 years ago, and its sizable cult following has led to numerous Doctor Who exhibitions, shops and tours in the capital, allowing fans to visit memorable film locations from the series and gain insight into the on-set antics of the time-traveling Timelord. 
Join like-minded fans for a Doctor Who TV locations tour of London and you'll have the chance to discover the capital's long affiliation with the show. On a walking tour through the City of London, Borough and the South Bank, you'll hear all the behind-the-scenes secrets of filming. You'll learn about the 12 different actors who've portrayed the small-screen idol over the years and stop at filming spots like John Adams Street, used as the Prime Minister's house in the series, and the Shakespeare's Globe Theatre, which has been seen on-screen in both 1988 and present-day episodes.
Alternatively, opt for a private Doctor Who Tour of London, and you'll be escorted around by black taxi cab, stopping at the bridge where the Daleks first invaded London, the London Eye and the capital's last remaining British police box, which viewers will instantly recognize as Doctor Who's famous TARDIS – sadly, the real version doesn't enable time travel, but it does make a striking backdrop for a photo. 
Despite its many connections with London, most of the scenes from Doctor Who are actually filmed in Cardiff, Wales, where shooting takes place both on-location and on-set at the BBC Studios. A private Doctor Who Tour of Cardiff from London is the ultimate fan experience, as it includes a scenic cross-border drive by black taxi cab; visits to the American cafe frequented by the Doctor and the houses of Amy and Rory Pond; and a trip to the interactive Doctor Who Experience in Cardiff Bay, where you can step inside a TARDIS time machine, browse the original costumes and props, try out futuristic special effects and watch all your favorite clips.
34 Reviews
If you're a fan of the BBC science fiction television series 'Doctor Who', you'll love this 3-hour private tour of sites filmed on location throughout London. ... Read more
Location: London, United Kingdom
Duration: 3 hours (approx.)
7 Reviews
Discover the 'Doctor Who' world of daleks, sontarans and extraterrestrials on a day trip to Cardiff by London black cab! With a private driver as a guide, ... Read more
Location: London, United Kingdom
Duration: 12 hours 30 minutes (approx.)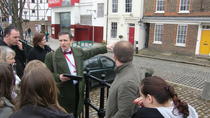 40 Reviews
See the sci-fi sights of London on a 2.5-hour 'Doctor Who' TV locations tour, led by a local guide. While exploring central London neighborhoods such as ... Read more
Location: London, United Kingdom
Duration: 2 hours 30 minutes (approx.)