Britain's favorite period drama Downton Abbey has been taking the world by storm of late, so get your top hats and teacups at the ready, and prepare to get a taste of Edwardian-era England. The real-life Downton Abbey is set at the magnificent 1,000-acre estate of Highclere Castle, a 19th-century historic castle in Hampshire, as well as in the picturesque village of Bampton in Oxfordshire. If you're looking to be treated like royalty, you can visit both locations on the private Downton Abbey Film Locations Tour by Private Chauffeur.
Highclere Castle
Thanks to the present day mansion's new-found game, it is now a popular day trip from London. Take the Downton Abbey and Oxford Tour from London Including Highclere Castle option for a day of exploring the impressive estate. Fashioned around an original Georgian structure, it was designed by Sir Charles Barry and features the spectacular timeless façade that has become so synonymous with the TV show. Belonging to the Earl and Countess of Carnarvon since 1679, the private estate now opens its doors in between filming, offering fans the chance to explore the rooms as seen on screen and wander the exquisite 18th-century parklands, designed by legendary landscaper Capability Brown. The Small-Group 'Downton Abbey' and Highclere Castle Tour from London allows fans to perch on a chaise lounge in the grand salon where the Dowager Countess regales the ladies of the house over cups of tea; browse the 5,650-book library where the Earl of Grantham conducts business with his trusty Labrador Isis at his heels; walk the grand stairwell where Lady Mary and Matthew first kissed; or marvel the original Van Dyck painting of King Charles I in the regal dining room where dinnertime chatter has revealed more than a few of the show's explosive storylines. It is without a doubt Downton Abbey's most iconic landmark, which can mean limited availability for its tours.
Bampton
Another popular spot for fans is the historic Oxfordshire village of Bampton, better known as its on-screen alter-ego, the fictional Downton Village. This village has a lower profile than Highclere Castle but experiences like the 'Downton Abbey' TV Locations Tour of Oxfordshire from London still offer the chance to spot the places Mr. Bates, Tom and Mrs. Patmore frequent on the show. One of England's oldest villages, dating back to the Iron Age, Bampton's rows of 12th-century cottages and Norman style St Mary's Church now draw a steady stream of tourists thanks to their Downton fame. You also have the option to add another beautiful building to this trip with the 'Downton Abbey' TV Locations and Blenheim Palace Tour from London tour. To really immerse yourself in southern England history, opt for the 2-Day Best of Southern England from London: Oxford, Stonehenge, Windsor and Bath Including 'Downton Abbey' Filming Sites tour.
London
Back in the city, there are a few other ways to get your fix of British period drama. Pay a visit to Angels Fancy Dress of London, who supply many of the series' elegant gowns and accessories, where you rent out glittering 1920's flapper dresses and long cigarette holders for a Downton-inspired night on the town; or brush up on your World War I era history at the Imperial War Museum. Make sure you don't forget the most important tradition of the British aristocracy – traditional English Afternoon Tea. Head to one of Central London's glitziest venues where you can sip the national brew from fine china teacups, munch on bite-sized sandwiches and stage your very own high-society revival.

232 Reviews
See top filming locations from the award-winning 'Downton Abbey' television series on a full-day tour from London! After touring Oxford, enjoy a walking tour ... Read more
Location: London, United Kingdom
Duration: 10 hours (approx.)
51 Reviews
Explore Highclere Castle, the Cotswolds village of Bampton and other sites made famous by the hit British TV series 'Downton Abbey' on this full-day tour from ... Read more
Location: London, United Kingdom
Duration: 10 hours (approx.)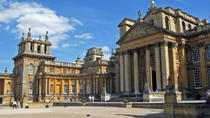 41 Reviews
Learn about the lives and love interests of the fictional Crawley family on a full-day 'Downton Abbey' filming location tour! Depart from London and travel to ... Read more
Location: London, United Kingdom
Duration: 10 hours (approx.)
28 Reviews
Visit Highclere Castle, the Cotswolds village of Bampton and other sites on a full-day 'Downton Abbey' tour from London! After traveling to Oxfordshire with an ... Read more
Location: London, United Kingdom
Duration: 11 hours (approx.)
14 Reviews
Discover 'Downton Abbey' filming sites on a tour by an iconic form of London transport: a black cab. As a private guide drives, learn about the lives of the ... Read more
Location: London, United Kingdom
Duration: 8 hours (approx.)
5 Reviews
Immerse yourself in the London of 'Downton Abbey' on this 3-hour, 4-hour or full-day black cab tour with a friendly driver-guide. The private tour visits the ... Read more
Location: London, United Kingdom
Duration: 3, 4 or 8 hours (approx.)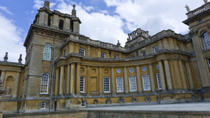 53 Reviews
Uncover England's stunning natural beauty and rich historical and cultural heritage on this day trip from London. With an expert guide, get up close to the ... Read more
Location: London, England
Duration: 10 hours (approx.)