The days of bland and stodgy British cuisine, often bemoaned by international visitors, are long gone, and London's 21st-century culinary makeover has made it one of the world's most exciting gastronomic cities. Inspired by its cosmopolitan population and a new wave of innovative celebrity chefs, foodies can finally put London at the top of their travel itineraries.
London's top food experiences are as varied as the city itself, but newcomers should start with a nod to tradition and indulge in the timeless pastime of English Afternoon Tea. There are plenty of unique options for teatime in the capital, but you can't go wrong with the luxury Champagne tea and buttermilk scones at the Grosvenor House Hotel or a visit to the Royal Family-approved New Diamond Jubilee Tea Salon at Fortnum & Mason. Another way to get a taste of Old England is to attend a candlelit medieval-themed banquet hosted by Royal ancestor Henry VIII (or his look-alike, at least) and accompanied by period-style food and music.
Next, swap the glitzy tea halls of central London for the cosmopolitan sprawl of the East End where you can sample some of the city's most diverse ethnic cuisines. Brick Lane is famous for its curry houses, Spitalfields market is a hotspot for quirky street food and traditional East London 'chippies' still serve fish and chips wrapped in newspaper.
Food-themed walking tours are another great way to discover London's most unique eats, starting with a trip around the legendary Borough Market at London Bridge and continuing to local favorite, Brixton Market, where you'll get to sample everything from Afro-Caribbean sweets to British cheeses. Or indulge your sweet tooth on a Chocolate walking tour, strolling around the glamorous Mayfair district and tucking into the creations of famous London chocolatiers like Paul A Young, Hotel Chocolat, Choccywoccydoodah and Ladurée.
Finally, you don't have to join a tour to sample London's finest cuisine – there are hundreds of world-class restaurants to choose from. If you plan to eat out every night though, a worthwhile investment is the London Pass Dining Guide, which offers savings on meals at over 35 of the city's top restaurants including top eateries like the Hard Rock Cafe, Planet Hollywood, La Brasserie Mayfair and the Covent Garden Grill.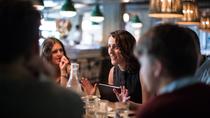 153 Reviews
Get to know the East End's burgeoning food scene and its fascinating history on a 3.5-hour London walking tour. With a friendly local guide, explore the ... Read more
Location: London, United Kingdom
Duration: 3 hours 30 minutes (approx.)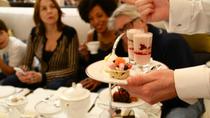 36 Reviews
Discover London's diverse culture and cuisine on this 3.5-hour food tour of Soho, one of the oldest and most vibrant districts in the city. Follow a guide ... Read more
Location: London, United Kingdom
Duration: 3 hours 30 minutes (approx.)