An unmistakable landmark as iconic as it is shrouded in mystery; its no surprise that Stonehenge is one of England's most captivating tourist attractions and visiting the historic site makes an easy side trip from the capital. An ancient stone circle dating back almost 5,000 years, Stonehenge is located just outside of Salisbury, less than an hour and a half by train from London, but the most popular way to visit is on a guided tour.
There are a number of options for Stonehenge Tours from London but to make the most of your time and money, opt for a coach tour or small-group day trip that combines a stop at the sacred site with visits to nearby attractions like the grand Salisbury Cathedral or the medieval village of Lacock. Once you've marveled over the magnitude of the 40-ton rocks, thought to have held spiritual or astronomical importance in ancient times, head to the Royal residence of Windsor Castle, the world's oldest continually inhabited castle, or take a stroll around the historic town of Bath, a former Roman spa town and one of England's most picturesque destinations.
For a more tailor-made experience, opt for a private sunset or sunrise viewing of Stonehenge, where you'll get private access to the elusive inner circle of stones, or enjoy the VIP treatment on a small-group tour with Champagne reception. Or if you prefer to travel independently and want the flexibility to explore off-the-beaten-track, independent tours of Stonehenge are the ideal compromise, offering plenty of free time to take in the sights, along with the ease of pre-arranged transport, tour tickets and expert advice. Finally, the ultimate Stonehenge experience happens once a year during the summer solstice, when the dramatically situated stones pay homage to their pagan roots with a giant gathering of revelers, who come together to celebrate the longest day of the year with an all-night party.

4785 Reviews
Discover Stonehenge, Windsor Castle and Bath on this day trip from London. Leave the city behind you and travel by air-conditioned coach to Windsor Castle, ... Read more
Location: London, United Kingdom
Duration: 11 hours (approx.)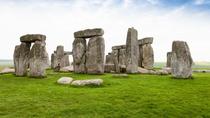 1702 Reviews
Explore the beautiful scenery of the English countryside on this full-day tour of Windsor Castle, Stonehenge, Lacock and Bath. Head to Windsor Castle, home of ... Read more
Location: London, United Kingdom
Duration: 12 hours 30 minutes (approx.)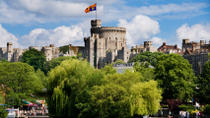 862 Reviews
Experience three of England's trophy sights on this full-day trip to Windsor Castle, Stonehenge and Oxford from London. Travel by air-conditioned coach to ... Read more
Location: London, United Kingdom
Duration: 9 hours 30 minutes (approx.)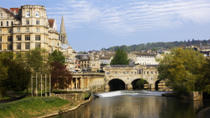 317 Reviews
Sit back and relax as you travel by luxury air-conditioned coach from London to the UNESCO World Heritage-listed city of Bath. On your way, discover the iconic ... Read more
Location: London, United Kingdom
Duration: 11 hours 30 minutes (approx.)
741 Reviews
Take an early or late-access tour of Stonehenge, and walk inside the UNESCO-listed stone circle without any of its daytime crowds. Choose from a morning or ... Read more
Location: London, United Kingdom
Duration: 10 hours 30 minutes (approx.)
30 Reviews
Gain early access to Stonehenge on a tour with a specialist guide who sheds light on the UNESCO World Heritage site and its mystery — it's a Viator Exclusive ... Read more
Location: London, United Kingdom
Duration: 11 hours (approx.)
1 Review
Experience the 2016 summer solstice at Stonehenge on a sunset or sunrise excursion from London! The astrological celebration at the ancient site has become an ... Read more
Location: London, United Kingdom
Duration: Varies: 7-12 hours