Who says that Los Angeles a trafficky, gridlocked city? When the 405 was shut down – the purported "Carmaggedon" – what happened? Not much. People took to the streets, and if you're one of us who prefer to travel up close and personal, you'll find Los Angeles is a pretty bike-friendly kind of town – should you know how to do it. Biking around Los Angeles can be a great way to see the city and impress your friends back home – no joke. Here are the best ways to pedal LA.

Celebrities often have the annoying habit of living somewhat far apart from one another, even though they like the same neighborhoods. Thus, Beverly Hills and Bel-Air are perfect for the bike tour. You'll see amazing mansions, historical palaces, and learn the secret resting spots of your favorite Hollywood icons on this 2.5 hour tour. Not a fan of big houses, but prefer the Hollywood Walk Of Fame? Pedaling through this part of Hollywood is another great option, and if you stop at Madam Tussaud's celebrity wax museum, you'll be able to meet your favorite celebrities in person! … sort of.

Regrettably, biking isn't for everyone. Some of us do prefer the motorized method of transportation – and for those of us, there is a happy medium. You can explore some of the best parts of LA on electric bike! Electric bikes let you get where no car or bus could take you, and the narrow alleys and boardwalks of Santa Monica and Venice are perfect for electric bike. You can see the Santa Monica Pier, check out the Venice Boardwalk and Canals, shop Venice high street, all without twitching a muscle. Or, if you'd like the workout, leg-power is a switch away – truly the best of both worlds.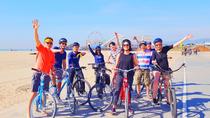 48 Reviews
Pedal through LA's most popular areas on the #1 bike tour of Los Angeles. An expert guide keeps you entertained with fascinating stories while leading you ... Read more
Location: West Hollywood, California
Duration: 6 hours (approx.)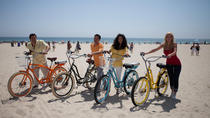 74 Reviews
Try something new on your Los Angeles vacation! See places you can't get to in your car or on a tour bus as you try out a unique and fun activity – riding an ... Read more
Location: Santa Monica, California
Duration: 3 hours (approx.)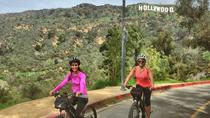 On the Hollywood Sign eBike Cruise you'll get away from the crowded city using a powerful electric bike. Ride on the back trails of LA's beautiful ... Read more
Location: Los Angeles, California
Duration: 2 hours 30 minutes (approx.)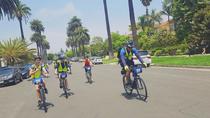 This is the ULTIMATE HOLLYWOOD EXPERIENCE that leaves no site unseen. You'll pedal past Tinsel town's most storied landmarks, from the ... Read more
Location: West Hollywood, California
Duration: 3 hours (approx.)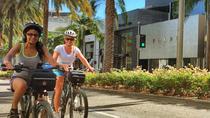 On this 2.5-hour tour you'll see all the famous spots you've heard of in Beverly Hills and some you might never have stumbled upon without the help of our ... Read more
Location: Beverly Hills, California
Duration: 2 hours 30 minutes (approx.)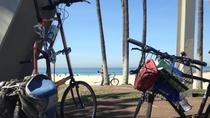 1 Review
The Ride to the Beach is part of our workout series. The tour starts about two blocks north of Union Station in Downtown Los Angeles. This could be a 40 to 57 ... Read more
Location: Los Angeles, California
Duration: 6 hours (approx.)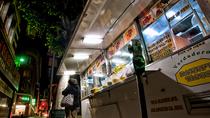 Nothing says Los Angeles more than its taco stands and taco trucks. To an average Angelino, a taco stand is not an unusual sight. There are tons of taco stands ... Read more
Location: West Hollywood, California
Duration: Flexible
Take in two top-selling Los Angeles experiences for one amazing trip on this combo tour. See popular attractions such as Paramount Studios, the Santa Monica ... Read more
Location: Los Angeles, California
Duration: 1 to 2 days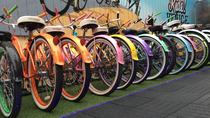 2 Reviews
Rent a colorful cruiser bike right on the beach in Venice, then head down The Strand bike trail with friends or family. Explore beach towns such as Manhattan ... Read more
Location: Venice, California
Duration: 1 day (approx.)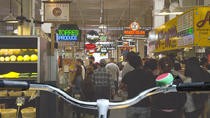 Your downtown guided Los Angeles bike tour begins and ends at Grand Central Market, LA's 100-year-old food hall. At only 2 hours, your tour is perfect for ... Read more
Location: Los Angeles, California
Duration: 2 hours (approx.)