Los Cabo's legendary 'Marlin Alley' has lured sportfishing aficionados for decades, but these days whale-watching, golfing and partying are edging out this traditional pastime.
Day 1: Seascapes
Start your three-day holiday with a swim with some of the Pacific's most charming residents. The Swim with the Dolphins program offers you the rare opportunity to swim and play with beautiful Pacific bottlenose dolphins. Finish the day with a sunset cruise. What better way to unwind after a day in paradise than to sail the Pacific under the magnificent sunset skies. Spoil yourself at the Mexican buffet and open bar while you get a closer look at the famous arch, the sea lion colony and the rock formations as you sail under the fading skies.

Day 2: Los Cabos Adventure
Day two in Los Cabos begins with a wild ride over sand dunes. This ATV adventure will take you off the beaten track to explore secluded beaches, ride over sand dunes and challenge yourself to difficult terrain. These sand buggies can go just about anywhere and offer a ton of fun. You'll be exploring sand dunes and wild secret trails where the spectacular views will leave you in awe.
In the afternoon, ride a horse along a beach. The rare mixture of golden beaches and desert around Los Cabos set the perfect atmosphere for a fantastic horseback riding experience. Explore the surroundings including gorgeous scenery, the Sea of Cortez and unique desert plants. 
Day 3: Waterfalls and canyons
Spend day three hiking the canyons of Sierra La Laguna. These canyons were once traversed by Indians hundreds of years ago, where increased rainfall creates a unique biosphere. Swim in the natural springs and waterfalls surrounded by incredible granite formations and impressive wildlife.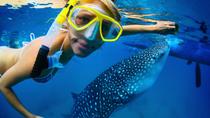 12 Reviews
Test your endurance and swim alongside whale sharks, the largest known fish, in the Sea of Cortez on this full-day eco-tour. After driving through a beautiful ... Read more
Location: Los Cabos, Mexico
Duration: 8 hours (approx.)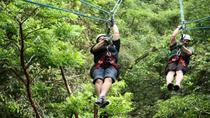 48 Reviews
If you're looking for the perfect balance of activities and fun, then the Canyon Canopy Adventure is the choice for you! Thrill seekers get the unique ... Read more
Location: Los Cabos, Mexico
Duration: 5 hours (approx.)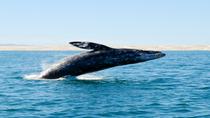 13 Reviews
Visit the world famous whale sanctuary at Magdalena Bay for an experience of a lifetime. This full-day adventure includes round-trip hotel transportation, ... Read more
Location: Los Cabos, Mexico
Duration: 12 hours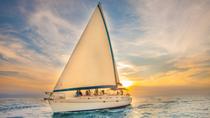 29 Reviews
Sail into the sunset along the Cabo coast and enjoy five-star service aboard a luxury yacht. This romantic sunset cruise on Cabo San Lucas Bay includes ... Read more
Location: Los Cabos, Mexico
Duration: 2 hours 30 minutes (approx.)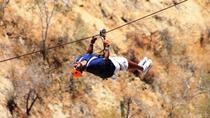 13 Reviews
Soar more than 300 feet (91 meters) above ground on zip cables strung high above the river canyon of El Tule and in the safety of your harness, you'll ... Read more
Location: Los Cabos, Mexico
Duration: 3 hours 30 minutes (approx.)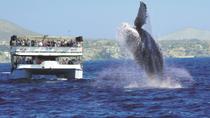 19 Reviews
Watch for gray whales and enjoy breakfast on this 2-hour whale watching cruise from Cabo San Lucas. Cruise past the spectacular rock Arch, sea lions and ... Read more
Location: Los Cabos, Mexico
Duration: 2 hours (approx.)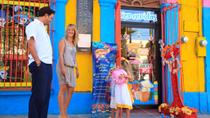 43 Reviews
Experience the highlights of Los Cabos on this 6-hour tour from Cabo San Lucas. Traveling with an expert guide, ride a glass-bottom boat along the rugged Baja ... Read more
Location: Los Cabos, Mexico
Duration: 6 hours (approx.)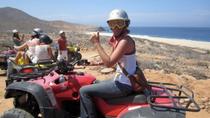 39 Reviews
If you seek adventure in the beautiful nature that surrounds Los Cabos, this ATV ride is the tour for you! This ATV adventure will take you off the beaten ... Read more
Location: Los Cabos, Mexico
Duration: 3 hours (approx.)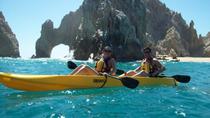 16 Reviews
Soak up the natural beauty and wildlife around the iconic peaks of El Arco on this 3-hour kayak and snorkeling tour from Los Cabos. With expert guides leading ... Read more
Location: Los Cabos, Mexico
Duration: 3 hours (approx.)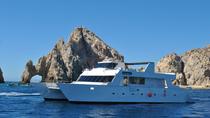 51 Reviews
Snorkel in the blue waters of Chileno Bay on this snorkeling cruise in Cabo San Lucas! Hop aboard a double-decker catamaran and sail out to sea with your ... Read more
Location: Los Cabos, Mexico
Duration: 4 hours (approx.)