Mount Rigi
Mount Rigi is a mountain in central Switzerland, bordering Lucerne, and part of the Swiss Alps. It's also known as the "Queen of the Mountains." Rigi offers stunning panoramic views and is famous for its beautiful sunrises. Nowadays, the mountain is easily accessible by public transportation. It offers many winter and summer excursions such as skiing, sledding, or hiking.
It has been popular with adventurous, romantic travellers for quite some time (before the advent of public transportation), including Mark Twain more than a century ago. The Rigi has been immortalized through paintings by JMW Turner, including "The Blue Rigi, Lake of Lucerne, Sunrise".
Practical Info
You can access Mount Rigi via steamboat from Lucerne to Vitznau and then the cogwheel train up to "Rigi-Kulm." Enjoy the view and take a ride back to Rigi-Kaltbad and from there the cable car to Weggis where you can go back to Lucerne by boat.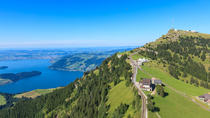 1 Review
Watches, Lakes, Mountains, Chocolate - Swiss made. On the non-guided "Authentic Swiss Tour – Lucerne" you will discover traditional Swiss crafts ... Read more
Location: Lucerne, Switzerland
Duration: 7 hours (approx.)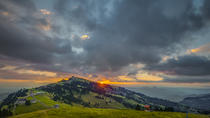 Discover and shoot some of the most remarkable landscapes in Central Switzerland on this 7-hour private photography tour from Lucerne. Photograph the sweeping ... Read more
Location: Lucerne, Switzerland
Duration: 7 hours (approx.)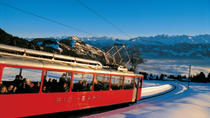 48 Reviews
Board a comprehensive full day tour from Zurich and visit Mt. Rigi, Queen of the Swiss Mountains at 6,000 feet (1,800 meters). Your partly guided coach tour ... Read more
Location: Zurich, Switzerland
Duration: 9 hours 30 minutes (approx.)
123 Reviews
On this full-day alpine excursion, escape Zurich and spend a glorious day in the Lake Lucerne area, exploring Mount Rigi, known as the 'Queen of the ... Read more
Location: Zurich, Switzerland
Duration: 9 hours 30 minutes (approx.)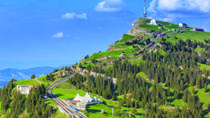 22 Reviews
This independent Mount Rigi tour from Lucerne combines a round-trip boat cruise, cogwheel railway ride and aerial cable car ride for an epic Swiss Alps ... Read more
Location: Lucerne, Switzerland
Duration: 5.5 or 8.5 hours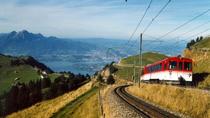 1 Review
Spend a day around Lucerne and on Mount Rigi with your private tour guide, just you and your guide! Enjoy a one-hour boat trip from Lucerne to Vitznau and then ... Read more
Location: Lucerne, Switzerland
Duration: 8 hours (approx.)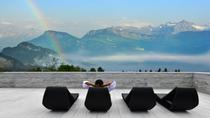 16 Reviews
Combine a trip to Mt Rigi with a relaxing experience at the Rigi Kaltbad Mineral Baths & Spa on this overnight tour from Zurich. Enjoy the scenic views as ... Read more
Location: Zurich, Switzerland
Duration: 2 days (approx.)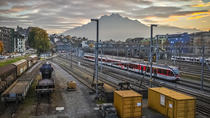 Want to experience Lucerne like a local? Join me as we visit world-famous sights such as the Chapel Bridge with the octagonal Water Tower, the Jesuit Church ... Read more
Location: Lucerne, Switzerland
Duration: 2 hours 30 minutes (approx.)