Encircled by towering peaks and glittering lakes, if you're looking to take in Switzerland's famous mountain vistas, Lucerne is ideally situated, with easy access to the Top of Europe at Jungfraujoch, the glacial wonderland of Mount Titlis and the mighty Eiger Mountain. One of the most popular day trip destinations is the 2,132 meter Mt Pilatus which looms over Lake Lucerne and offers spectacular panoramic views of the region. The mountain range is also a prominent recreational area for both locals and tourists, hosting Switzerland's longest summer toboggan track and one of the largest suspension rope parks in the country.
If you're visiting during the summer months, the most popular way to explore Mt Pilatus is taking the 'Golden Round Trip', a loop that covers all the best lookout points and includes a ride on the world's steepest cog railway. Hop on a boat cruise across Lake Lucerne to the lakeside town of Alpnachstad, where you'll board the historic cogwheel railway (which runs from May to November, depending on snowfall) for a dramatic journey up the mountainside, climbing to the dizzying heights of the summit. Returning via the aerial cable-car to Kriens, you'll be able to marvel at the Lakeland views from all angles, proving that the journey can be just as jaw-dropping as the destination.  
With the hillsides blanketed in snow, winter day trips to Mt Pilatus are conducted by cable car, soaring over the icy wonderland of the Mt Pilatus massif. Once you reach the top, take a walk along the legendary Dragon Path, named after the dragons that allegedly once patrolled the peak, then huddle in the warmth for a mountaintop lunch with a view.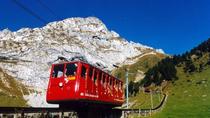 6 Reviews
Spend a day around Lucerne and on Mount Pilatus with your private tour guide, just you and your guide! Enjoy a one-hour boat trip from Lucerne to Alpnachstad ... Read more
Location: Lucerne, Switzerland
Duration: Flexible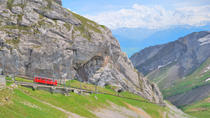 384 Reviews
Enjoy a day of Alpine adventure in Switzerland on this half-day, summer trip to Mt Pilatus from Lucerne. Begin your journey toward the skies with a 30-minute ... Read more
Location: Lucerne, Switzerland
Duration: 5 hours 30 minutes (approx.)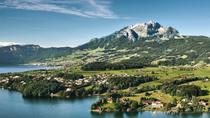 235 Reviews
For a full day of alpine summer splendor, make for the mountains on this guided roundtrip from Zurich to central Switzerland's Mount Pilatus. Your full day ... Read more
Location: Zurich, Switzerland
Duration: 9 hours 30 minutes (approx.)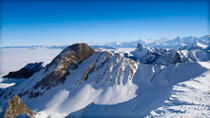 16 Reviews
Join this partly guided coach tour from Zurich to Mount Pilatus for a full day's winter wonderland on one of Switzerland's most majestic mountains. Explore ... Read more
Location: Zurich, Switzerland
Duration: 9 hours 30 minutes (approx.)
5 Reviews
Visiting Lucerne's landmark mountain, Mt. Pilatus, is a must-do when you're in the Lake Lucerne region. Start at the valley station in Kriens, and enjoy a ... Read more
Location: Lucerne, Switzerland
Duration: 2 hours 15 minutes (approx.)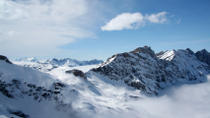 3 Reviews
Breathe in the fresh air of the Swiss Alps on this 2-day winter trip to Mt Pilatus and Mt Titlis from Zurich (November to March). Start your adventure with a ... Read more
Location: Zurich, Switzerland
Duration: 2 days (approx.)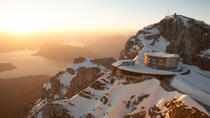 10 Reviews
Join this partly guided coach tour from Lucerne to Mount Pilatus for a half-day winter wonderland adventure on one of Switzerland's most majestic mountains! ... Read more
Location: Lucerne, Switzerland
Duration: 5 hours 30 minutes (approx.)