With its dramatic location surrounded by snowy peaks and shimmering lakes, you can't visit Lucerne without taking a trip into the mountains. Hair-raisingly steep peaks and breathtaking glaciers are all within an easy train journey from the city center, so there are plenty of options for day trips from Lucerne into the Swiss Alps.

Take Europe's oldest cogwheel railway or a panoramic aerial cable car to the top of Mount Rigi, the 'Queen of the Swiss Mountains', where the views from the 1,800-meter summit take in the region's 13 lakes and there are numerous options for skiing, sledding and hiking. Nearby, the world's steepest cog railway runs to the 2,132-meter peak of Mount Pilatus, where you can dine with a view at one of the mountaintop restaurants or, just south of Lake Lucerne, the 1,900-meter summit of Mount Stanserhorn is reached by the new CabriO cable car. The first of its kind in the world, the double-decker cable car includes an open-air top deck with standing room for 30 people, making the views en route equally as impressive as from the top.

If it's the ultimate view you're after, you can't get higher than the 'Top of Europe' observation deck on Jungfraujoch, teetering at an incredible 3,454 meters. Climb the mountain to Europe's highest railway station and gaze out over Europe's longest glacier, the majestic Aletsch Glacier, from the Sphinx Observation Terrace.

Of course you don't have to soar to a dizzying altitude to enjoy the Swiss Alps. Hike along the steep limestone cliffs of the dramatic Aare Gorge; cross the notorious Devil's Bridge in Schollenen Gorge; delve into the eerie ice tunnels carving into the Rhone Glacier; or relax in the picturesque alpine villages of Andermatt or Grindelwald (evocatively dubbed the 'Glacier Village').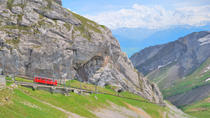 384 Reviews
Enjoy a day of Alpine adventure in Switzerland on this half-day, summer trip to Mt Pilatus from Lucerne. Begin your journey toward the skies with a 30-minute ... Read more
Location: Lucerne, Switzerland
Duration: 5 hours 30 minutes (approx.)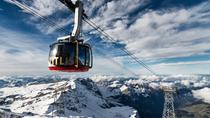 298 Reviews
Visit the summit of Mt Titlis on an afternoon tour from Lucerne, where spectacular mountain vistas and a range of snow-themed attractions await. After arriving ... Read more
Location: Lucerne, Switzerland
Duration: 5 hours 30 minutes (approx.)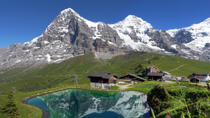 52 Reviews
Venture from Lucerne through the Swiss Alps to the highest point in Europe! On this unforgettable day trip with a multi-lingual guide, travel by coach through ... Read more
Location: Lucerne, Switzerland
Duration: 9 hours 30 minutes (approx.)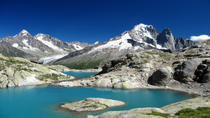 18 Reviews
Embark on a summertime adventure of gorges and glaciers on this full-day guided tour to the Swiss Alps from Lucerne. Venture over several mountain passes by ... Read more
Location: Lucerne, Switzerland
Duration: 7 hours 30 minutes (approx.)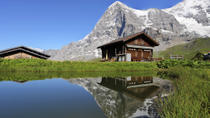 6 Reviews
Spend a day in the breathtaking Alps on this day trip from Lucerne to the stunning UNESCO World Heritage-listed region of Jungfraujoch. Travel by coach through ... Read more
Location: Lucerne, Switzerland
Duration: 9 hours 30 minutes (approx.)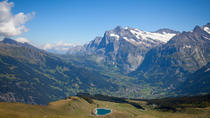 6 Reviews
Enjoy a day full of fresh mountain air and unforgettable Alpine scenery on this mostly independent day trip from Lucerne. Travel through the Bernese Oberland ... Read more
Location: Lucerne, Switzerland
Duration: 10 hours (approx.)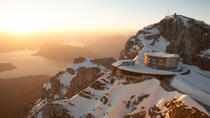 10 Reviews
Join this partly guided coach tour from Lucerne to Mount Pilatus for a half-day winter wonderland adventure on one of Switzerland's most majestic mountains! ... Read more
Location: Lucerne, Switzerland
Duration: 5 hours 30 minutes (approx.)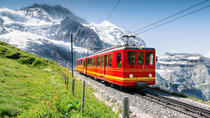 515 Reviews
Travel to the top of Europe and admire the soaring peaks of the Swiss Alps on this 9.5-hour Jungfraujoch day trip from Lucerne. Take a scenic drive through ... Read more
Location: Lucerne, Switzerland
Duration: 9 hours 30 minutes (approx.)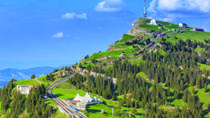 22 Reviews
This independent Mount Rigi tour from Lucerne combines a round-trip boat cruise, cogwheel railway ride and aerial cable car ride for an epic Swiss Alps ... Read more
Location: Lucerne, Switzerland
Duration: 5.5 or 8.5 hours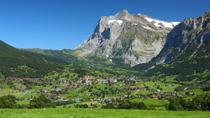 33 Reviews
Explore some of Switzerland's most magnificent Alpine regions on a day trip from Lucerne to Grindelwald in the Bernese Oberland. Along the way you'll visit the ... Read more
Location: Lucerne, Switzerland
Duration: 9 hours 30 minutes (approx.)