139 Reviews
Address:

Egypt

Hours:

Open daily 6am - 5pm

Admission:

30 L.E.
Temple of Hatshepsut (Deir el-Bahari)
The vast Temple of Hatshepsut in Deir el-Bahari rivals the Pyramids as one of the great funerary monuments of the ancient world. Built into the towering cliff face which shelter the Valley of the Kings on the other side, it rises on three enormous terraces connected by ramps, each level marked with a colonnade of stark, largely unadorned square pillars.
Its namesake was one of the few female pharaohs of ancient Egypt, who not unfairly called her monument "Splendor of Splendors". However, much of the construction dated from earlier rulers, starting with Mentuhotep II in 2050 BC. Numerous sphinxes and other statues have since disappeared, making the whole structure appear even more monolithic. 
The cool stone interior provides welcome relief from the pitiless heat of this region, and features well-preserved wall reliefs and hieroglyphics, some in brilliant colors.
Practical Info
The Temple of Hatshepsut is near the Valley of the Kings, on the western side of the Nile in the mortuary temple complex of Deir el-Bahari.
113 Reviews
Tour the most famous sites on Luxor's West Bank in the company of an expert private guide. You'll step back into Egypt's ancient history at the Valley of the ... Read more
Location: Luxor, Egypt
Duration: 4 hours (approx.)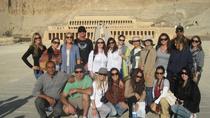 2 Reviews
Explore all that the ancient city of Luxor has to offer on a full-Luxor Day Tour to East and West Banks of the Nile River. Enjoy a professional guided tour to ... Read more
Location: Luxor, Egypt
Duration: 10 hours (approx.)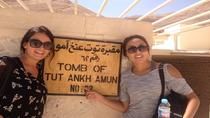 1 Review
Enjoy an unforgettable day exploring the mystery of Tutankhamun, the most famous king in the world. This young king from the New Kingdom was around 10 years ... Read more
Location: Luxor, Egypt
Duration: 6 hours (approx.)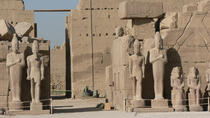 Enjoy 8 hours covering the West and East bank of Luxor and see most of the tourist attractions in Luxor characterized by its ancient history. Visit the Valley ... Read more
Location: Luxor, Egypt
Duration: 8 hours (approx.)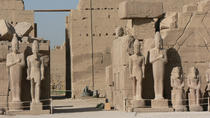 Visit Luxor that is known as the biggest open air museum around the world because it's famous to see the most interesting historical places of the Pharaohs ... Read more
Location: Hurghada, Egypt
Duration: 17 hours (approx.)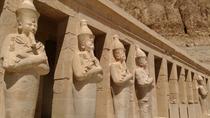 Discover the West bank of Luxor, Valley of King, Colossi of Memnon and Hatshepsut Temple.
Location: Luxor, Egypt
Duration: Flexible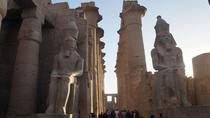 1 Review
Enjoy your day tour from Cairo to Luxor East and west Bank including domestic flight with private guide and lunch. This tour allows you to visit the greatest ... Read more
Location: Cairo, Egypt
Duration: Flexible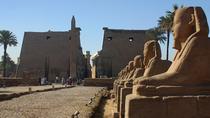 Visit Luxor on a 1-day tour from Dahab. You will fly from Sharm el Sheikh Airport to Luxor and experience a variety of attractions such as Valley of the kings ... Read more
Location: Dahab, Egypt
Duration: 1 day (approx.)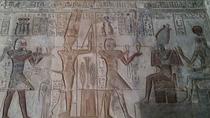 Enjoy a professional guided Day Tour to the Valley of the Queens, Valley of the Workers and Habu Temple of King Ramses III. Includes pickup and drop off ... Read more
Location: Luxor, Egypt
Duration: 5 hours (approx.)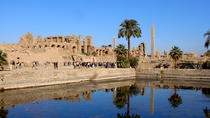 Explore Luxor with its West and East bank from Hurghada by private guided tour. Visit the Valley of the Kings, the Temple of Queen Hatshepsut (known as El Dier ... Read more
Location: Hurghada, Egypt
Duration: 12 hours (approx.)