Top 5 Things to Do in Macao
By Viator, July 2016
Macao is the epicenter of casinos, entertainment and excitement in the East, but travelers who venture to this destination city will find plenty to do, see and experience beyond the bright lights. Whether it's history, nature or epic views, Macao has something for everyone.
Discover UNESCO World Heritage Sites
The historic city center is home to dozens of UNESCO World Heritage-listed sites and points of interest that offer a nod to Macao's past. Check out the haunting ruins of the Church of St Paul's Cathedral, which dates back to the late 1500s, and the Buddhist A-Ma Temple, another popular landmark that showcases the intersection of Portuguese and Chinese cultures in the city. Visitors looking to experience local life can check out Senado Square, where residents gather to enjoy a bit of the outdoors.
Indulge in Macao's Culinary Flavor
Macao is home to some seriously diverse flavors thanks to Portuguese and Asian influences. Perhaps the city's most famous dish is the tasty Portuguese egg tart, which blends a savory pastry with egg custard and a sweet crunchy top. These warm treats are served everywhere from fancy hotels to casual street booths and are an absolute must when seeking authentic local tastes. Travelers who want to sample other popular dishes should be sure to seek out Portuguese seafood rice, which again blends European and Asian flavors, as well as Serrandura, a chilled pudding layered with sweet biscuits and condensed milk for a delicious dessert.
Take a Hike or Settle In for a Show
Macao may be a destination for nightlife and entertainment, but it's also a great place to get in touch with nature. Several incredible trails loop through scenic landscapes and offer travelers the chance to explore the outdoors, including the easy Coloane Trail, which takes about two hours to navigate and ends with incredible views. Visitors who seek fresh air will find more than a dozen other popular hiking routes in the hills of Macao.
Those who prefer a more laid-back opportunity to experience the city will love relaxing in the huge, colorful theater for the captivating House of Dancing Water performance, which incorporates live performances, splashing water and an interesting story line for a night of memorable entertainment in the heart of Macao.
Stroll the Streets of Macao
Macao is ripe for exploration and there's no better way to do so than on foot. Wander the streets of Taipa Village, which puts the city's Portuguese roots front and center, and check out the colonial architecture and European influence here. Iconic Senado Square is another destination to visit on foot, where locals gather to enjoy company and pleasant weather. Visitors who want to visit merchants and collect souvenirs for the trip home will find them on Rua da Tercena, a lane lined by mom-and-pop shops that are perfect for afternoon browsing.
Take in the Views at Macao Tower
This popular spot is not for the faint of heart, which is why Macao Tower has been attracting thrill seekers for years. Adrenaline-junkie travelers can hurl themselves from atop this sky-high building on a bungy and ascend some 1,100 feet. But even visitors who don't want to take the daredevil SkyJump can enjoy the views, thanks to a 58th-floor observation deck and a 61st-floor harnessed SkyWalk.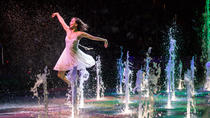 6 Reviews
Prepare to be amazed by "The House of Dancing Water", a water show extravaganza staged in a custom-built theater at City of Dreams Macau. During either ... Read more
Location: Macau, China
Duration: 90 minutes (approx.)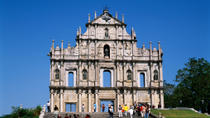 725 Reviews
Complete your visit to Hong Kong with a day trip to Macau, once the oldest European settlement in the Orient. Sit back and relax as you sail across the sea ... Read more
Location: Hong Kong, Hong Kong
Duration: 11 hours (approx.)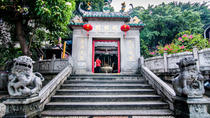 27 Reviews
If you've wondered what's unique about the former Portuguese colony of Macau, take a city sightseeing tour with a knowledgeable local guide. Visit historical ... Read more
Location: Macau, China
Duration: 7 hrs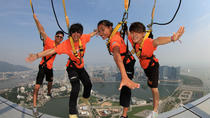 Take a walk on the wild side on the Macau Tower Skywalk, 764 feet off the ground. Securely strapped into a harness and attached to a safety cable, you can ... Read more
Location: Macau, China
Duration: 20 minutes (approx.)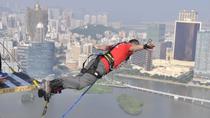 Kick your adrenaline into high gear on the highest commercial bungy jump in the world: the 764-foot jump at Macau Tower. You have the choice to jump during the ... Read more
Location: Macau, China
Duration: Varies