No reviews, be the first!
Address:

Paseo del General Martínez Campos, 37, 28010 Madrid, Spain

Hours:

Tue-Sat 9:30am - 8pm, Sun and Holidays 10am - 3pm. Closed Mondays, Jan 1st, May 1st, Dec 24-25 and 31st. Closed local holidays.
Sorolla Museum Tours
Constructed in honor of its namesake, the much-celebrated Valencian Impressionist artist Joaquin Sorolla, the Sorolla Museum is a fascinating tribute to the artist's life and works, displaying personal artifacts, awards, written memoirs and, of course, many of his most beloved artworks. Housed in the 20th-century mansion on Paseo del General Martínez Campos where the artist lived and worked from 1912 until his untimely death in 1923, the Sorolla house was bequeathed to the public by his widow and reopened as a museum several years later.

The museum serves not only as a gallery of his finest works, but a memorial to the artist himself – many rooms have been preserved as they were left, with the original décor and personal effects still in place. Sorolla's pipes and paintbrushes can still be seen scattered around the studio, along with over 300 canvasses and thousands of rough drawings. Even the building, along with its series of splendid landscaped gardens, is a masterwork of its former owner, providing an even greater insight into his artistic vision and creative evolution. The house itself, designed by architect Enrique María de Repullés y Vargas in a classic Andalusian style, was dreamed up by Sorolla himself, who purchased the plot of land with the aim of creating the perfect home and studio. The exquisite mansion offers an ideal backdrop to his beautifully lit portraits and landscape paintings, making it one of Madrid's most serene art museums.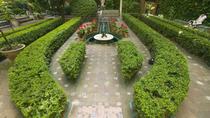 Visit the collection of one of the best conserved houses in Europe on this 1 hour 30 minutes guided tour. Get to know the workshop and last home to the ... Read more
Location: Madrid, Spain
Duration: 78 minutes (approx.)