1408 Reviews
Address:

Paseo Pintor de Rosales 2, Madrid, Spain

Hours:

Open Tues - Sun 10am - 2pm & weekdays 6pm - 8pm , Closed Mon

Admission:

Free
Temple of Debod (Templo de Debod)
The Temple of Debod is an Egyptian 4th century BC temple that now stands in the Parque de la Montaña near Plaza de España. While it seems out of place in Madrid, the temple has been there since 1971 when it was dismantled, shipped, and carefully reconstructed in the city. This was done to protect it from flooding caused by the Aswan Dam. Spain was chosen to receive the temple as a thank you for helping to save Abu Simbel, another archaeological site that was threatened by flooding in Egypt.
As for the temple itself, it stands behind two stone gates rising out of a calm shallow pool. Inside the temple, there are hieroglyphs as well as photos documenting its history, including the reconstruction in Madrid. The temple and gates are illuminated at night, creating a clear beautiful reflection of it in the water. 
Practical Info
The Parque de Montaña, where the Temple of Debod now stands, also offers a comfortable retreat with grassy lawns and shade-giving trees. The view from the edge of the hillside is an amazing panorama of the city skyline and is the perfect spot to watch the sunset. Get there from the Plaza de España or Ventura Rodriguez metro stops.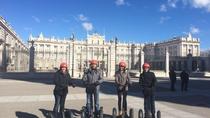 1 Review
Take a trip through Madrid history on a futuristic Segway personal transporter. The 2-hour sightseeing tour will take you to see the city's attractions, from ... Read more
Location: Madrid, Spain
Duration: 2 hours (approx.)
On this 4-hour private tour you will be picked up at your hotel and will start off on a 4 hour ride through the streets of Madrid on this classy car with a ... Read more
Location: Madrid, Spain
Duration: 4 hours (approx.)
Take this 5-hour tour of the UNESCO-listed El Escorial Monastery and the Valley of the Fallen from Madrid. Delve into the fascinating history of the El ... Read more
Location: Madrid, Spain
Duration: 7 hours (approx.)
Live a unique, original and cultural experience on this 50-min tour that will allow you to know the city on board of a 3 seat Vespa.This is a convertible, ... Read more
Location: Madrid, Spain
Duration: 50 minutes (approx.)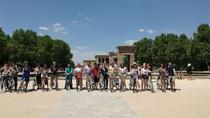 Take a trip through Madrid history on a confortable electric bicicle with pedal assist. The sightseeing tour will take you to see the city's attractions, from ... Read more
Location: Madrid, Spain
Duration: Flexible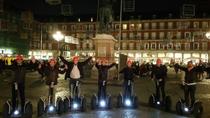 1 Review
See a different side of Madrid during this 1.5-hour guided Segway night tour. Hop aboard an easy-to-manage Segway and follow a local guide to several of the ... Read more
Location: Madrid, Spain
Duration: 90 minutes (approx.)
Embark on the most convenient way to discover Toledo and its most attractive and outstanding monuments, quarters, and streets such as the Church of St. ... Read more
Location: Madrid, Spain
Duration: 7 hours (approx.)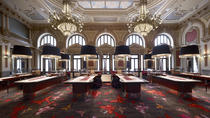 1 Review
Combine at a glamorous night at the casino with an evening tour of Madrid's top sights. Hop aboard an open-top, double-decker bus to enjoy unobstructed views ... Read more
Location: Madrid, Spain
Duration: 4 hours (approx.)
Imagine the feeling of air entered into a mythical vintage convertible car while discovering Madrid, its streets and most representative monuments guided by a ... Read more
Location: Madrid, Spain
Duration: 4 hours (approx.)
This tour will offer you a unique journeys in electrical tricycles that combines anecdotes and historical facts, as well as great ideas and fun.There are 4 ... Read more
Location: Madrid, Spain
Duration: Flexible