Madrid may not be the birthplace of flamenco (that title belongs to the south), but as Spain's capita, it often attracts the best talent and, therefore, high-quality flamenco shows. Here are some of the top spots in the city to enjoy an evening of fine flamenco.
Flamenco Shows
Madrid offers a plethora of options for flamenco shows, from the authentic and intimate performance at Cardamomo (situated near the Puerta del Sol in the center of Madrid) to the rustic and evocative Casa Patas in Madrid's Lavapies neighborhood. While Las Carboneras is situated in a main tourist district, the show itself is authentic thanks to its improvisational dance. Corral de la Morería ranks among the most prestigious flamenco destinations in the city, attracting top talent and famous guests (including former US President George Bush, artist Pablo Picasso, and actress Nicole Kidman).
Flamenco Shows with Dinner
Each flamenco venue offers the option to include dinner during the show. A traditional Spanish meal is an excellent complement to the live music and entertainment, and depending on the venue, this might include paella, tapas, Spanish flan, and sangria or local wine.
Flamenco Shows with Lessons
There's no better way to experience flamenco than to put on your dancing shoes and give it a try yourself. This ultimate night of flamenco begins with a workshop where you'll learn basic steps and how to play the castanets, followed by a live show at an authentic flamenco tablao (flamenco venue) where the pro flamenco artists show off their skills.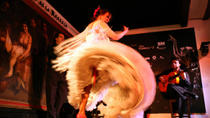 212 Reviews
Feel the feverish heat of Spain's traditional dance with a flamenco show at one of the country's most prestigious 'tablaos' (flamenco venues). Choose the show ... Read more
Location: Madrid, Spain
Duration: Varies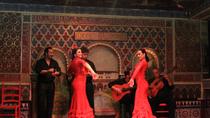 18 Reviews
Transfer from your hotel to the Tablao Flamenco Torres Bermejas to see a magnificent show of Flamenco songs and dances, including a drink, tapas or a tasty ... Read more
Location: Madrid, Spain
Duration: 90 minutes (approx.)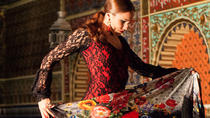 8 Reviews
Torres Bermejas, opened in 1960, is the most important and unique flamenco show in the world. Torres Bermejas is unique for its stunning room that reproduces ... Read more
Location: Madrid, Spain
Duration: 80 minutes (approx.)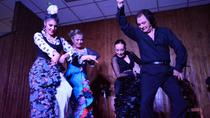 27 Reviews
Experience the unique Flamenco show in the heart of Madrid's most flamenco-famous neighborhood. Go where the locals go to observe this incredible art up close, ... Read more
Location: Madrid, Spain
Duration: 3 hours (approx.)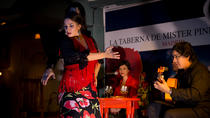 3 Reviews
Open as a Tablao Flamenco in 1961, La Taberna de Mister Pinkleton, located in the very center of Madrid, offers currently an amazing and different flamenco ... Read more
Location: Madrid, Spain
Duration: 90 minutes (approx.)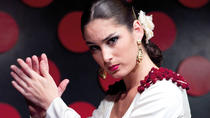 41 Reviews
Los Tarantos is the oldest and one of the most respected flamenco tablaos in the city of Barcelona. Every night, you can enjoy the one of the best flamenco ... Read more
Location: Barcelona, Spain
Duration: 35 minutes (approx.)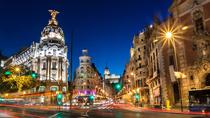 12 Reviews
Visit the fascinating city of Madrid at night with its beautiful lights on this guided tour where you can enjoy a different way to appreciate the city!
Location: Madrid, Spain
Duration: Flexible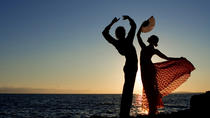 170 Reviews
Feel the passion and heat of Spain's traditional dance at the legendary Cafe de Chinitas flamenco show. Be swept up in the rhythm as an internationally ... Read more
Location: Madrid, Spain
Duration: 4 hours (approx.)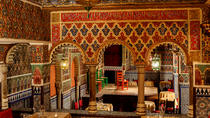 12 Reviews
Torres Bermejas, opened in 1960, is unique for its stunning room that reproduces inside the Bermejas towers of the Alhambra in Granada, with walls with Arabic ... Read more
Location: Madrid, Spain
Duration: 80 minutes (approx.)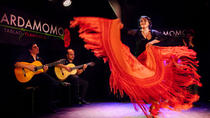 4 Reviews
Discover why Madrid is called the Capital of Flamenco on this delicious and dramatic 4 hour evening experience. Marvel in the city's best flamenco performance ... Read more
Location: Madrid, Spain
Duration: 4 hours (approx.)