Mounds of colorful seafood paella served up on giant silver platters; a table spread with bite-sized tapas shared among friends; sugary piping hot churros (fingerlike fried donuts) dipped in rich hot chocolate. Whatever comes to mind when you think of Spanish cuisine, you'll find it all and plenty more, in Madrid.
The Spanish capital is a melting pot of national cuisine and eating out in the city is an experience to be savored. Don't be fooled -- the notoriously leisurely service isn't laziness; it's designed to allow time to fully enjoy the food as part of a social occasion. The recent explosion of 'nueva cocina' (literally: new cooking) has brought a range of innovative dishes to the menus of the city's flashiest restaurants, but those looking to sample traditional Spanish fare won't have to look far either. Tapas -- miniature 'meals' or taster plates designed to be shared among diners -- are still one of the most popular ways to eat and you'll often hear locals say they are 'Ir de tapeo,' or 'going out for tapas.' Other dishes typical of Madrid include Cocido Madrileño, a hearty meat, chickpea and vegetable stew; Sopa de Ajo, a tasty garlic soup; and Callos -- tripe. Finally, don't forget to pay a visit to Sobrino de Botin -- opening its doors in 1725, it's renowned as the oldest restaurant in the world and is celebrated for its signature dish of cochinillo asado (roasted suckling pig).
Once you've indulged your taste buds at the city's many gourmet restaurants, there's no better way to learn more about Spanish cuisine than taking a
Madrid Cooking Class
. Starting with a trip to Madrid's Torrijos Market, you'll get to explore the variety of local herbs and produce, before donning your chef's cap and whipping up some of Spain's most iconic dishes. Torilla de patatas (Spanish omelette), gazpacho (chilled tomato soup), paella and tapas are all on the menu, and you'll likely enjoy cooking them as much as you will eating them.
Of course an authentic Spanish dinner party wouldn't be the same without a drink or two to kick-start the evening, so you'll also learn how to mix a perfect Sangria to accompany the spread. Best of all, you'll get recipe cards to take away -- the ultimate souvenir, allowing you to introduce friends and family back home to the tastes and flavors of Madrid.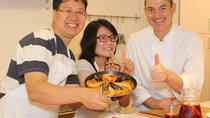 20 Reviews
Prepare and enjoy your own Spanish meal guided by a local chef through a hands-on 4-hour cooking class. Learn to make an excellent paella or tapas, while our ... Read more
Location: Madrid, Spain
Duration: 4 hours (approx.)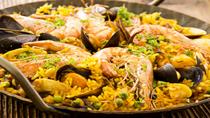 57 Reviews
Learn to cook authentic Spanish dishes under the watchful eye of a local instructor in Madrid! After exploring the tempting food stalls of Torrijos Market ... Read more
Location: Madrid, Spain
Duration: 3 hours (approx.)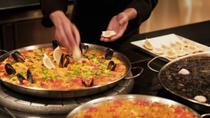 3 Reviews
Enjoy this fun introduction to the Spanish gastronomic culture. You will learn how to cook Paella,Tortilla, Sangria, and more Spanish food. After taking this ... Read more
Location: Madrid, Spain
Duration: 3 hours (approx.)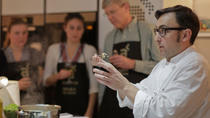 1 Review
Learn how to cook a Spanish meal with an expert chef.  This small group cooking class will first take you to a market in central Madrid and teach you how to ... Read more
Location: Madrid, Spain
Duration: 4 hours (approx.)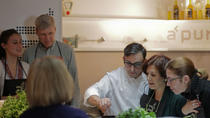 Learn to cook a Spanish meal with an expert chef and in a small group! Learn to prepare your own sangría and enjoy a meal with what you prepared. Embark ... Read more
Location: Madrid, Spain
Duration: 3 hours (approx.)