Made up of the city's three leading art museums—the Prado Museum, the Reina-Sofia Museum and the Thysses-Bornemisza Museum—Madrid's Golden Triangle is the absolute best bet for art lovers visiting Madrid and ranks among the world's most important museum complexes.
With its expansive collection of 12th- to 19th-century European art, the Prado Museum also includes numerous paintings and sculptures from the Spanish Royal Collection, the most famous being "Las Meninas" by Diego Velazquez.
The nearby Reina-Sofia Museum is devoted to modern art and home to classic works like Picasso's "Guernica," more than 20 Dalí paintings and an entire room dedicated to Joan Miró's works.
Finally, the Thyssen-Bornemisza Museum contains one of the world's most important personal art collections, featuring more than 1,000 pieces amassed by Heinrich Thyssen-Bornemisza and his son Hans Heinrich. With works spanning from the 13th to the late 20th century, a tour of this museum is like journeying through art history, with classics by Van Dyck, Rubens, Rembrandt, Titian, Picasso, O'Keefe and Kandinsky, to name just a few.
Stopping at this trio makes a popular addition to a city tour, but the best way to discover the Golden Triangle is on a skip-the-line Madrid art tour, which includes free access and queue jumps to all three museums, as well as an expert guide on hand to point out the highlights of each. Prefer to visit independently? Purchase a Madrid Card instead and you'll get free special entrance access to all three museums, as well as admission to nearby museums like the Caixaforum Madrid, the Naval Museum and the Municipal Museum.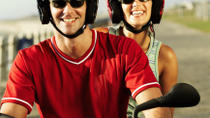 1 Review
See Madrid's city highlights by scooter on a 3-hour sightseeing tour, led by an expert guide! After choosing to ride alone or behind someone else, hop aboard a ... Read more
Location: Madrid, Spain
Duration: 3 hours (approx.)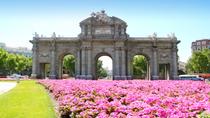 5 Reviews
See Madrid at your own pace on a 3-hour city tour with a private driver! With a flexible itinerary, you can see the sights that you want to see while being ... Read more
Location: Madrid, Spain
Duration: 3 hours (approx.)