Legend has it that the original tapas were used as covers to keep the sherry in Andalusian taverns safe from flies dropping into the glass. Bread, ham or chorizo were best, and led to the creation of the wide variety of Tapas, from olives, patatas bravas and cheese to delicacies like octopus, anchovies and prawns, influenced by cultures and ingredients throughout history. The Moors contributed citrus, almonds and spices, the Americas brought chill peppers, tomatoes, beans and potatoes into the mix. Usually salty – to encourage drinking – flavored with spices, garlic, olive oil, paprika or chill, often served with bread and olives.
Tantalize your taste buds as you sample Spanish nightlife,  exploring tucked-away corners and delectable tapas in the best introduction to the laid back Madrileno lifestyle. Visit an authentic Asturian bar, frequented by Spaniards of every age and description. Sample the specialities of cabrales (blue cheese), chorizo and cider. Next enjoy a traditional "fino" or Sherry bar complete with authentic oak casks of "Fino" and "Manzanilla" sherries served in bottles filled directly from the kegs, with complimentary olives or bread sticks.
An intimate local bar gives you a real taste of Madrid, bulls' heads on the wall are set off by various football shirts, with a huge selection of "tapitas" and "pinchos," including a model ship full of prawns. Last stop is a popular bar/restaurant serving wonderful "tostadas," great salads, meats, cheeses and Tapas. A fantastic eatery with high quality, no nonsense food and a great atmosphere.
Madrid is famed for its vibrant nightlife, with the largest density of bars and restaurants per square meter in Europe, even at 4 am the streets are teeming with revelers. Not a place to sit back and watch the world go by, rather somewhere to throw yourself into the melee!
Tapas Guide
Aceitunas - Olives, sometimes filled with anchovies or paprika.
Alioli - "Garlic and oil" in Catalan. The classic ingredients are garlic, oil and salt, often includes mayonnaise.
Banderillas, or pinchos de encurtidos - Cold pickled items, like olives, baby onions, baby cucumbers, chillis (guindilla) with pieces of pepper and other vegetables skewered together.
Boquerones - White anchovies served in vinegar or deep fried.
Calamares or rabas - Battered squid.
Chorizo al vino - Chorizo sausage slowly cooked in wine or Chorizo a la sidra cooked in cider.
Croquetas – Tasty crunchy fried croquettes.
Empanadas or empanadillas – Pastry turnovers filled with meats and vegetables.
Gambas - Prawns sauteed in salsa negra (peppercorn sauce), al ajillo (garlic), or pil-pil (chilli peppers)
Mejillones rellones (Tigres) - Stuffed Mussels. Called "tigers" in Navarre due to heir fieriness.
Pimientos de Padrón - Small green peppers originally from Padrón, fried in olive oil or served raw.
Pulpo - Octopus, served in small chunks cooked in oil with salt. Primarily from Galicia region.
Patatas bravas - Fried diced potato served with salsa brava, a spicy tomato sauce or alioli
Queso con anchoas - Castilla or Manchego cured cheese with anchovies on top.
Tortilla de patatas or Tortilla española - Omelet with fried potatoes and onion.
Tortilla paisana - Similar to frittata, containing vegetables and chorizo.
Tortillitas de camarones - Prawn fritters.
Zamburiñas - Scallop from the region of Galicia served in a tomato-based marinara sauce.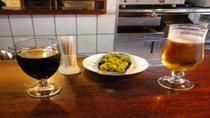 614 Reviews
Sample Spanish nightlife and Madrid's tasty tapas on an evening walking tour that will tantalize your taste buds! Led by an entertaining foodie guide, this ... Read more
Location: Madrid, Spain
Duration: 4 hours (approx.)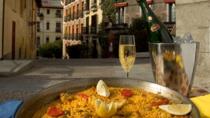 16 Reviews
Join your local guide and wine connoisseur for a 2.5-hour walking tour that takes you through the centre of Madrid and allows you to discover the best ... Read more
Location: Madrid, Spain
Duration: 2 hours 30 minutes (approx.)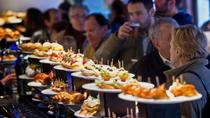 98 Reviews
Book a tour with all tapas and drinks included and get an inside look into tapas culture. Streetwise local guides will take you to the best tapas places and ... Read more
Location: Madrid, Spain
Duration: 3 hours 30 minutes (approx.)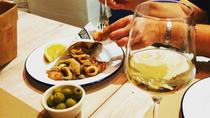 32 Reviews
Get acquainted with the city's world-class culinary scene on this 4-hour tapas walking tour in Madrid. With a local guide at your side, uncover foodie ... Read more
Location: Madrid, Spain
Duration: 4 hours (approx.)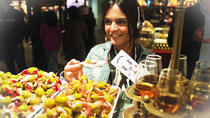 2 Reviews
Embark on an unique experience and taste 6 different top quality sherry wines ( Tio Pepe, La Gitana, Tradición y Alfaraz), enjoy 6 tapas to match with ... Read more
Location: Madrid, Spain
Duration: 60 minutes (approx.)