Mallorca RECOMMENDATIONS See all
Outdoor Adventures in Mallorca
By Viator, February 2018
No reviews, be the first!
Five times larger than Ibiza and dominated by a rugged mountain range, Mallorca was made for outdoor adventure. Many visitors head straight to the beach, but there's plenty more to see both on the coast and inland. See below for your options.
In the Water
The Palma Islands are famous for their beaches and beautiful waters, so they are must-have items on any itinerary. One of the most relaxing ways to experience the coast is via a sailing trip—whether aboard a single hull or catamaran, sailing adventures cover a lot of the island in just a short amount of time, with ample opportunity for swimming, sun bathing, snorkeling, and dolphin watching. Motorized boats take visitors even further out to explore secluded swim spots, snorkeling sites, sea caves, and fishing villages. Mallorca is also prime for kayaking and standup paddleboarding, cliff-jumping, and scuba diving.
On Land
Given the island's size, it's no surprise that land-based adventures abound on Mallorca. See the main sights of Palma de Mallorca on foot or by bike, or hop on a scooter to explore further afield. Guided quad tours and horseback rides let travelers explore rugged areas inaccessible to cars and street bikes. The Serra de Tramuntana Mountain Range forms the backbone of the island, creating a picturesque playground for adrenaline-fueled adventures. Hike to Smuggler's Cove on the La Victoria peninsula or trek through Torrent de Pareis canyon for some of Mallorca's best views.
From Above
Seeing Mallorca from above is truly a rush, especially when soaring high above the hills and sea on a tandem paraglide. Parasailing offers a similar feeling, with even more bird's-eye views of the Mediterranean Sea, but you don't need to be an adrenaline junkie to experience Mallorca from the sky. Gentle hot air balloon rides offer unobstructed views of the island below—it's a tranquil yet thrilling way to see the island.
Underground
Mallorca is famous for its underground cave systems, created by millennia of water erosion from Mediterranean waves crashing into the rocky coast. Among the most famous formations is the Cavern of the Dragon (Cuevas del Drach), known for its eerie underground lake. Other caves, such as the Cova de Coloms, are only accessible from the sea, requiring adventurous visitors to don a wetsuit and crawl, swim, walk, and climb through these subterranean spaces. Since this particular cave system doesn't require visitors to go underwater, it's a perfect introduction to sea caving, even for beginners and kids.
Join us for a whole afternoon Boat Party on a pirate ship! the only INTERNATIONAL boat party with international music. We set sail for a 3h boat party in the ... Read more
Location: Palma, Spain
Duration: 3 to 4 hrs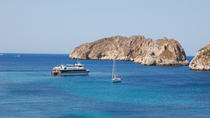 11 Reviews
Enjoy a relaxing and fun day on Mallorca on a boat trip around Palma Bay! Enjoy views of the crystal-clear Palma Bay as you cruise out to sea, passing ... Read more
Location: Mallorca, Spain
Duration: 9 hours (approx.)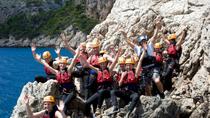 24 Reviews
Experience wet and wild adventure in the Serra de Tramuntana mountains on this 4.5-hour cliff jumping adventure in Mallorca. Travel into the UNESCO-listed ... Read more
Location: Mallorca, Spain
Duration: 4 hours 30 minutes (approx.)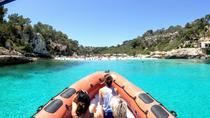 2 Reviews
A unique tour that while cruising along the southeast coast of Mallorca will take you to the unspoiled beach of Es Marmols, accessible only by boat or after a ... Read more
Location: Cala Figuera, Spain
Duration: 2 hours 9 minutes (approx.)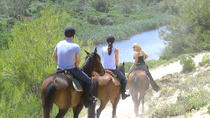 10 Reviews
Experience a Spanish horseback-riding adventure on Mallorca, suitable for all levels. On this evening trip, enjoy a 80 minutes ride along a scenic and peaceful ... Read more
Location: Mallorca, Spain
Duration: 7 hours (approx.)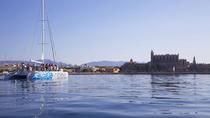 Enjoy a 5-hour sail on the Oasis, a luxurious renovated catamaran. Head out from the port of Palma de Mallorca to a cove where you'll stop for a swim and ... Read more
Location: Palma, Spain
Duration: 5 hours (approx.)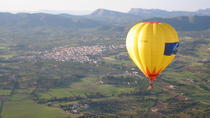 15 Reviews
Glide up, up and away on a morning or afternoon hot air balloon ride over northeast Mallorca! Taking off from the popular coastal resort of Cala Millor, the ... Read more
Location: Mallorca, Spain
Duration: 60 minutes (approx.)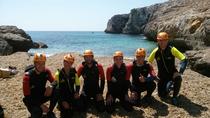 12 Reviews
Delve underground and discover a hidden world of subterranean caverns on this 6-hour Cova de Coloms sea caving adventure in Mallorca. Pull on your wetsuit and ... Read more
Location: Mallorca, Spain
Duration: 6 hours (approx.)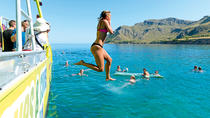 Embark on an exciting 3 hours boat trip on which you can admire some of the most impressive views in the Bay of Alcudia and the Llevant nature area.
Location: Alcúdia, Spain
Duration: 3 hours (approx.)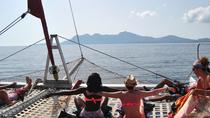 21 Reviews
Have a fun day swimming and snorkeling off the beautiful coast of Mallorca on this 6.5-hour catamaran cruise! You'll enjoy views of the breathtaking shoreline ... Read more
Location: Mallorca, Spain
Duration: 6 hours 30 minutes (approx.)