Most visitors to Mallorca (Majorca) plan on plenty of time relaxing on white sandy beaches lapped by clear, turquoise water. As the largest of Spain's Balearic Islands, Mallorca boasts miles of coastline prime for swimming, sunbathing, and water sports. Here are some of the island's best beaches.
Alcudia
The largest beach in the Balearic Islands, Alcudia features 4 miles (7 kilometers) of soft white sand along the northern coast, backed by the Port d'Alcúdia resort and other hotels. Shallow water and ample facilities like restaurants, beach bars, parking, and chair rentals make this a popular and family-friendly beach.
Es Trenc
More remote than other beaches and not attached to any resort, Es Trenc is still within easy driving distance from Palma and offers unspoiled scenery plus amenities including restrooms, lifeguards, and restaurants nearby. Take a break from sunbathing to look for migratory birds and other wildlife in the neighboring wetlands and sand dunes along the south shore.
Cala Formentor
This beautiful, narrow beach stretches between a pine forest and the shallow, clear water of a bay that's ideal for swimming and water sports. Many boat tours stop here, and you can rent a Jet Ski or water skis for a high-speed aquatic adventure. The beach's popularity can mean steeper prices for parking and rentals, but it's an essential stop on any Mallorcan beach itinerary.
Sa Calobra
Escape the crowds at this secluded beach tucked into a cove on Mallorca's northwestern shore. Stellar scenery and a castaway feel are the reward for the journey here, including a drive on winding mountain roads and a hike along a rocky stretch and through a well-lit tunnel. Be sure to bring everything you need, as there are no facilities at this far-flung beach paradise.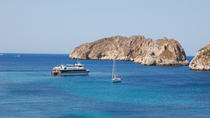 11 Reviews
Enjoy a relaxing and fun day on Mallorca on a boat trip around Palma Bay! Enjoy views of the crystal-clear Palma Bay as you cruise out to sea, passing ... Read more
Location: Mallorca, Spain
Duration: 9 hours (approx.)
Join us for a whole afternoon Boat Party on a pirate ship! the only INTERNATIONAL boat party with international music. We set sail for a 3h boat party in the ... Read more
Location: Palma, Spain
Duration: 3 to 4 hrs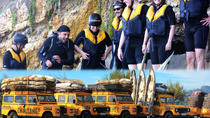 1 Review
The Challenge is a multi-experience adventure completing our circuit along the scenic coast in the North of Mallorca. You will be the star in this unique ... Read more
Location: Alcúdia, Spain
Duration: 3 hours 30 minutes (approx.)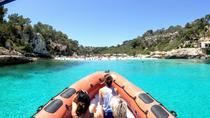 2 Reviews
A unique tour that while cruising along the southeast coast of Mallorca will take you to the unspoiled beach of Es Marmols, accessible only by boat or after a ... Read more
Location: Cala Figuera, Spain
Duration: 2 hours 9 minutes (approx.)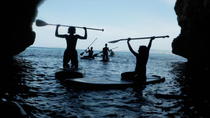 Enjoy Mallorca´s paradise turquoise water on board of a Stand Up Paddle board, paddling along the cliffs , snorkel in the caves and have a snack with a ... Read more
Location: Palma, Spain
Duration: 3 hours (approx.)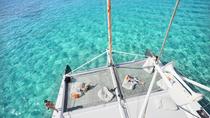 2 Reviews
Discover the beaches and bays of Palma on a catamaran cruise in Mallorca. Swim in crystal clear waters, and explore paradisiacal caves. Laze in the sun and ... Read more
Location: Palma, Spain
Duration: 5 hours (approx.)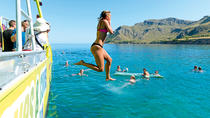 Embark on an exciting 3 hours boat trip on which you can admire some of the most impressive views in the Bay of Alcudia and the Llevant nature area.
Location: Alcúdia, Spain
Duration: 3 hours (approx.)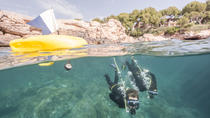 Book this 2-hour diving experience and enjoy a different day in Mallorca with your family and friends. The provided equipment for this activity allows you to ... Read more
Location: Palma de Mallorca, Spain
Duration: 2 hours (approx.)
Sail through the Palma Bay, Cap Enderrocat and Cala Vella aboard a premiere magnificent catamaran. Good food, relaxing atmosphere and quality service at your ... Read more
Location: Palma, Spain
Duration: 3 hours (approx.)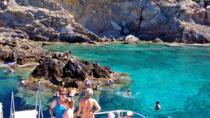 Discover the dramatic scenery of craggy sheer cliffs and sandy bays as you've never seen before!
Location: Santa Ponsa, Spain
Duration: 5 hours (approx.)