Food Lover's Guide to Malta
By Viator, February 2018
Maltese cuisine is seasonal, simple, unaffected south Mediterranean fare, shaped by agriculture and making the most of local ingredients such as plentiful fish, island-grown olive oil, tasty plump tomatoes, onions and lashings of garlic. Influenced by neighboring Sicily, baked pasta dishes such as timpana (macaroni and Bolognese sauce) and pizzas are popular, although in recent years there has been something of a renaissance in indigenous Maltese cooking and local dishes are once more featuring on restaurant menus.

Everybody should try Maltese bread – with its crispy crust and delicious soft, white center; take a vast round ftira, rub it with ripe tomatoes and olive oil, cram it with tuna, olives and salad to produce a mammoth sandwich called hobz biz-zeit – perfect for a lunchtime feast.

Other much-loved on-the-hoof Maltese snacks include pastizzi, savory pastry stuffed with spinach, ricotta cheese or mushy peas, and the sweet imqaret, deep-fried date pastries. The Gozoan specialty ewe's cheese ġbejniet is deep-fried and liberally peppered, usually served as a starter, as is the pâté bigilla, made from mashed broad beans and garlic, and aljotta, a thick fish soup. Popular Maltese entrées include qarabali mimli – marrow stuffed with minced beef; bragioli, beef slices stuffed with veal, herbs and olives; rabbits stews and fish pies.

The choice of fish pulled out of the Mediterranean around the Maltese archipelago is astounding; head to the colorful Sunday market at Marsaxlokk to see stalls piled high with the morning's catch. Swordfish, tuna, bream, mullet, grouper, bass, octopus and squid all feature seasonally on menus in the fishing village's restaurants.

Maltese dessert menus feature kannoli, fried pasta tubes stuffed with ricotta, lots of semi-freddo in various flavors, and sweet, sweet halva, which is made from crushed almonds and crept into the local gastronomy when the island under Arab rule between 870-1090.

For a cracking introduction to traditional Maltese cooking at its best, take in a foot-stamping performance of ancient island dances, complete with traditional costumes, singing and mandolin playing, while enjoying an open-air buffet dinner at Limestone Heritage Park and Gardens in Siggiewi.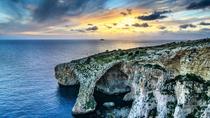 12 Reviews
During this tour you will visit 2 places. Blue Grotto where you will have a chance to do a boat ride for an extra charge and see the fantastic caves and ... Read more
Location: Valletta, Malta
Duration: 4 hours (approx.)