Lake Managua (Lake Xolotlán) Tours
In most cases, a city right on a lake—as Managua is on Lake Managua—would be a city embracing its waterfront. In this case, however, the lake was unfortunately used as a dumping ground for many years and is extremely polluted. It has only been in recent years that the waterfront and lake have been the focus of cleanup efforts and started to become more of an attraction for visitors.
Lake Managua (also known as Lake Xolotlán) is still too polluted for swimming (although some locals do actually fish in these waters), but the Malecón (waterfront) area was dredged and cleaned up in 2007, so progress is being made. You can hop on a tourist cruise around the lake; these 45-minute round-trip adventures run Tuesday through Sunday. Pay a little more for an upstairs seat on the boat—you'll be rewarded with the best views of the nearby volcano.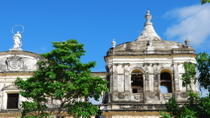 9 Reviews
Visit the colonial city of Leon on this day trip from Managua. Explore two UNESCO World Heritage Sites, Leon Viejo and the Cathedral of Leon, and learn about ... Read more
Location: Managua, Nicaragua
Duration: 8 hours (approx.)