Old Cathedral of Managua (Catedral de Managua)
The facade and bell towers of the Old Cathedral of Managua may look impressive, but get closer and you'll see there's almost nothing else left of the structure. The 1972 earthquake all but destroyed the church, and it was left as a ruin, unsafe for ...
Tours & Tickets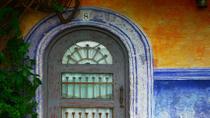 4 Reviews
Discover the capital of Nicaragua on this 6-hour guided city tour that will introduce you to the country's history and beauty! Visit the ruins of the Old ... Read more
Location: Managua, Nicaragua
Duration: 6 hours (approx.)
Get to know ancient Managua and local attractions, explore the old city center and popular sites with a knowledgeable guide.
Location: Managua, Nicaragua
Duration: 3 hours (approx.)
Managua, capital of Nicaragua, located southeast of Lake Managua and embellished by many crater lakes that give rise to its name, which in Nahuatl means ... Read more
Location: Managua, Nicaragua
Duration: 4 hours (approx.)