No reviews, be the first!
Address:

Somoto Canyon, Managua, Nicaragua

Hours:

Closures possible due to rising water levels

Admission:

$2
Somoto Canyon Tours
Reaching depths of up to 525 feet (160 meters) and in parts, as narrow as 30 feet (10 meters), the vast Somoto Canyon is a startling sight, created by the mighty Rio Coco, Central America's longest river, burrowing through a cliff of solid rock. Today, the canyon is a national monument and one of Nicaragua's most impressive natural attractions, stretching for more than 2 miles (3 km) and located right by the Honduran border. 
The best way to view the canyon is by hiking or horseback riding along the upper ridge, where you can peer down into the vast canyon, trek through fields of wild orchids and explore the eerie bat caves dotted along the rim. Adventurous travelers can also venture down into the canyon to scramble along the rocky riverside or cool off at a number of swimming holes, as well as enjoying activities like kayaking, tubing and rock climbing.
Practical Info
The Somoto Canyon is located 9 miles (15 km) north of Somoto in northwestern Nicaragua and is open all year, although closures are possible in October due to the rising water level. Adult admission costs US $2.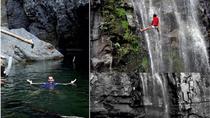 Explore one of the geographic marvels of Nicaragua. The Somoto Canyon is a one mile (3 km) long gorge where the Rio Coco is born. The canyon, discovered in ... Read more
Location: Managua, Nicaragua
Duration: Flexible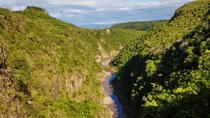 Somoto Canyon was relatively unknown until a group of scientists from Nicaragua and the Czech Republic stumbled upon it in 2004. Since then, it's been a ... Read more
Location: Managua, Nicaragua
Duration: 12 hours (approx.)