Mt Pinatubo Crater Tours
Sitting on Luzon island in the Philippines, Mt Pinatubo hadn't erupted for 600 years until 1991, when on June 15 it blew its top in the second-biggest volcanic explosion of the 20th century. The devastating eruption filled the surrounding valleys with lava and turned the evening sky red with ash, but once the dust had settled over the 4,872-foot (1,485-meter)-tall stratovolcano, it was revealed that the cap of the moutain had blown clean away to reveal a 1.2-mile (2 km)-wide crater filled with a shimmering, emerald green lake.
Today, Mt Pinatubo Crater is a popular spot for hikers looking to clamor among its moon-like landscape. It isn't possible to go trekking up Mt Pinatubo without a guide, but instead, a 4WD vehicle will take you from the starting point of Pinatubo Spa Town or Santa Juliana across the foothills until you reach the trailhead for a 45-minute climb to the top of the crater. There are also tours to the crater from Manila. Bring your swimming gear so you can hit the water once you get here.
Practical Info
A feasible day trip from Manila, Pinatubo and Santa Juliana can be reached by car if you take the North Luzon and SCTEX expressways for about a two-hour drive northwest.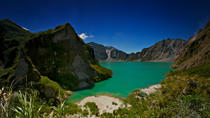 3 Reviews
Leave the bustle of Manila behind on this day trip to Mt Pinatubo for a combo 4x4 and trekking adventure to Pinatubo Crater with an expert guide. Drive an ... Read more
Location: Manila, Philippines
Duration: 15 hours (approx.)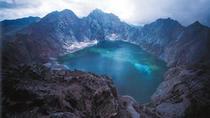 Experience the historic Mt. Pinatubo via jeepney and trekking in Pampanga, Philippines. Metro Manila/Makati hotel pickup is included on this full-day excursion.
Location: Manila, Philippines
Duration: 10 hours (approx.)